Helluva Boss: Season 1/ Episode 3 "Spring Broken" – Recap/ Review (with Spoilers)
---
Community Rating: 0.00% (0) - No Community Ratings Submitted (Add Yours Below)
---
This post may contain affiliate links and spoilers. Please read our disclosure policy.
---
One of Blitzo's exes showing up triggers Luna meeting his exes' bodyguard, and her showing her softer side.
---
Director(s)
Vivienne Medrano
Writer(s)
Brandon Rogers, Vivienne Medrano
Aired (YouTube)
1/31/2021
Previously Noted Characters
Blitzo
Brandon Rogers
Luna
Erica Lindbeck
Millie
Vivian Nixon
Moxxie
Richard Horvitz
Newly Noted Characters
Verosika
Cristina "Vee" Valenzuela
Vortex
James Monroe Iglehart
This content contains pertinent spoilers. Also, images and text may contain affiliate links, which, if a purchase is made, we'll earn money or products from the company.
Recap
Some B**** That I Used To Know – Blitzo, Verosika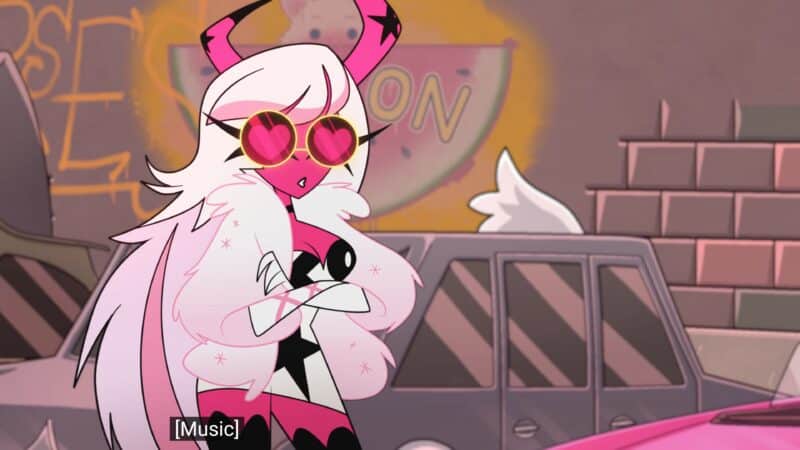 Be it in the demon world or the human world, Blitzo used to date Verosika. As for how they got together and why they broke up? Well, while the getting together part is hard to say, more than likely, her cheating on him is why they broke up. So her working in the same building and taking Blitzo's parking spot? Oh, he is not having it.
A Puppy In Heat – Vortex, Luna, Blitzo
But, while Blitzo is mad at Verosika, Luna is enamored with her and her hellhound bodyguard, Vortex. Maybe because he is big, looks strong, and something about that is calming, soothing even, to Luna. For while Blitzo tries to protect her, he does so through isolation and with fear. With Vortex, he could protect her like he does Verosika with just his presence and muscles.
It Had To Come To This – Blitzo, Verosika, Luna, Vortex, Moxxie, Millie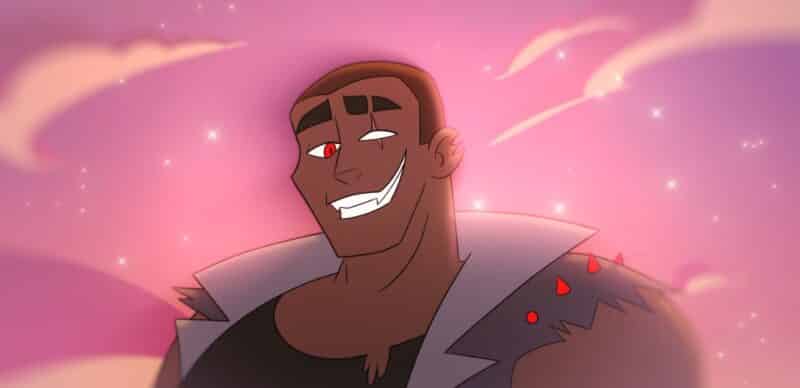 Yet, the love affair ends when Luna learns Vortex has a girlfriend. Thus leaving her back to her usual disenchanted outlook on life due to Blitzo being overbearing. Oh, and speaking of her adoptive father, he and Verosika have a contest to see whose skills are sharper for that parking spot.
For Blitzo, the focus is killing, with his crew, which includes Moxxie, Millie, and Luna, who would lure people in, since IMP doesn't use human disguises. As for Verosika? She is tasked with making the most humans get off. The problem is with that, her flask gets into the water, and a fish becomes a monstrous size, so ultimately, it's less about who won and more about Blitzo feeling he has leverage over Verosika. Thus, he gets the parking spot.
Review
Highlights
Luna's Soft Side
Like Blitzo, Luna isn't much for revealing her softer side and speaking more than a few sentences without feeling the need to yell. So, with her being smitten by Vortex, we got to see someone different. Mind you, it isn't to the level of what we saw with Octavia, even though Luna does lightly touch on her relationship with Blitzo. Yet, every step we take towards getting to see beyond the sex and outrageous comedy is always appreciated. For it reveals each character's truth behind the jokes.
On The Fence
Wishing We Got To See Blitzo's Softer Side
Picking up on the Octavia comparison, a part of me did wish we got a bit more of Luna and Blitzo's relationship. Granted, we learn Blitzo adopted Luna when she was damn near 18, so there isn't the full treasure chest of memories there to go back to. Add in we aren't 100% sure if Luna wanted to be adopted, the circumstances that led to the adoption, or Blitzo's intentions. Since, with Helluva Boss being a comedy that's zany, outrageous, with just a touch of heart, backstories aren't a major focus. Especially who people were, if they were ever human, when they were alive.
Though, there is hope we may get that as Medrano's team get that A24 money.
[ninja_tables id="55205″]
Summary
Luna's Soft Side - 82%
Wishing We Got To See Blitzo's Softer Side - 76%
With a visit from someone of Blitzo's past, so comes an inkling of opportunity for Luna to show herself as more than Blitzo's adopted daughter while addressing their relationship just a tad.