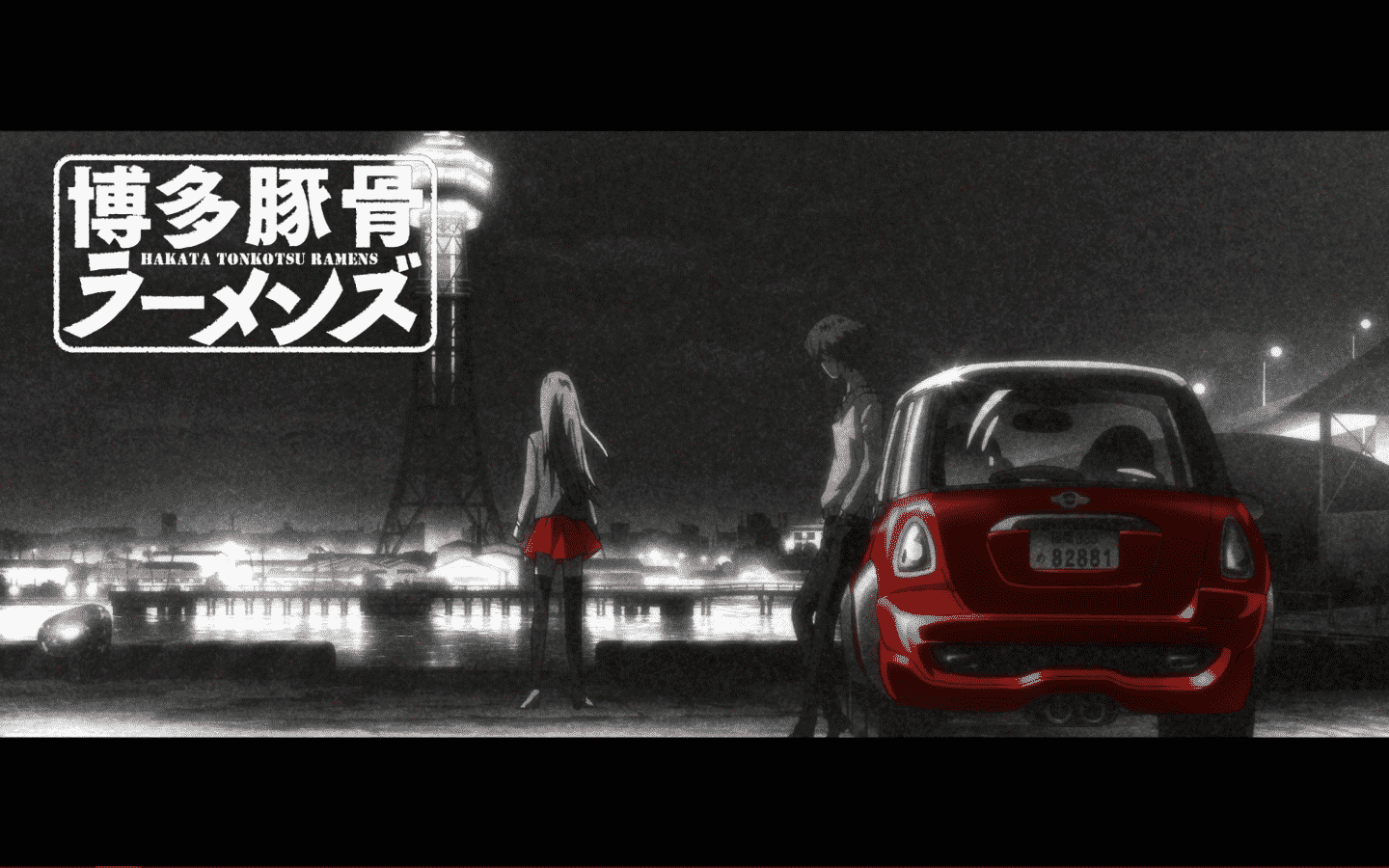 Images and text in this post may contain affiliate links which, if a purchase is made from those sites, I may earn money or products from the company.
While Hakata Tonkotsu Ramens may not leave you squealing like a pig for more, it presents enough intrigue for you to want to know where this show might be going.
---
Network

Crunchyroll

Creator

Chiaki Kisaki

Director(s)

Kenji Yasuda

Writer(s)

Shogo Yasukawa

Air Date

1/12/2018

Noted Cast

Banba

Daisuke Ono

Ling

Yuki Kaji

Mayor Harada Shotarou

?

Reiko

?

Ivanov

?

Munakata

?

Shino

?

Itou Takuya (Saitou)

Yuusuke Kobayashi
---
The Introduction
At the center of it all is arguably Banba. A detective in the Hakata region which is known for 3% of its population being hitman. Of which, one includes Ling, a cross-dressing hitman. Someone who has long killed seemingly for the underworld without a care yet, so it seems, being jipped on a recent job may have changed things. So as Banba starts sticking his nose into the underworld's business, particularly their dealings with mayor Harada Shotarou, it seems the only thing which may keep him alive is Ling.
Which is the main story of the show. There is also one dealing with Harada's son killing girls, which causes some of his associates problems, and this new hitman now named Itou Takuya dealing with being assumed to be someone else. Something that will seemingly lead to him being tortured.
Admittedly, I got a little overwhelmed by the amount of characters we were introduced to. However, the sort of appetizer we got in each and every one's introduction does make you crave more. You are pushed to wonder what got Ling into cross-dressing and what happened that led him to be separated from his sister Quaomei. Much less, why he seemingly is in debt to the mob. You wonder why Banba seemingly is your usual ex-cop turned P.I?
When it comes to the mayor, you gotta wonder if he started corrupt or became corrupt? Then when it comes to Reiko, Ivanov, Munakata, and Shino, how did they get into the Hitman game and whether, like Ling, they are more so trapped in the game than enjoy what they do. Like cleaning up after Mayor Harada's son after he attempts to rape and kill some girl.
And I could go on and on for really, while this show may not leave you squealing like a pig for more, it presents enough intrigue for you to want to know where this show might be going. How will Banba, a very basic P.I. who isn't some big muscle-bound dude, or a guy with powers, is going to handle an insanely corrupt city. One in which they can kill a cop and make it look like a suicide with perhaps now follow up.
Watch:
Here
[External]
Follow Wherever I Look on
Twitter
or Like us on
Facebook
.
Check Out Perspectives From Our Peers By Clicking The Link or Image Below
---
100 Word Anime Blog
Hakata Tonkotsu Ramens Episode 1: Hitmen, Detectives, and Corruption