Yuzu has come to the point in realizing that she may have to put her feelings aside, especially as she comes to realize who Shou is to Mei and the damage his absence has done.
---
Network
Crunchyroll
Director(s)
Takeo Takahashi
Writer(s)
Naoki Hayashi
Air Date
2/3/2018
Characters Introduced
Shou
Tomoaki Maeno
Meet Papa Shou: Yuzu, Shou, Himeko, Mei
Mei is very much about self-sacrifice, especially for the better of family. She goes with Yuzu to her father's grave, picks up the slack for her grandfather while he is in the hospital, and tries to keep up the pace despite becoming ill. However, everyone has a breaking point. Hence why when Yuzu tries to violate Mei, especially under some guise that Himeko "crossed the line," so she will too, that gets shut down.
Mei not only reveals that is a lie but is disappointed in Yuzu for believing that. Then, when Himeko comes out of nowhere, she too gets chastised. But, Yuzu, if you want to keep score, sort of pulls ahead. With her opening up about her dad being dead, so comes Mei revealing to Yuzu directly what Himeko talked about in the last episode. That is, missing the relationship she had with her father and longing for his return. Especially in terms of taking some of the load off her in keeping the academy together and just being there for her.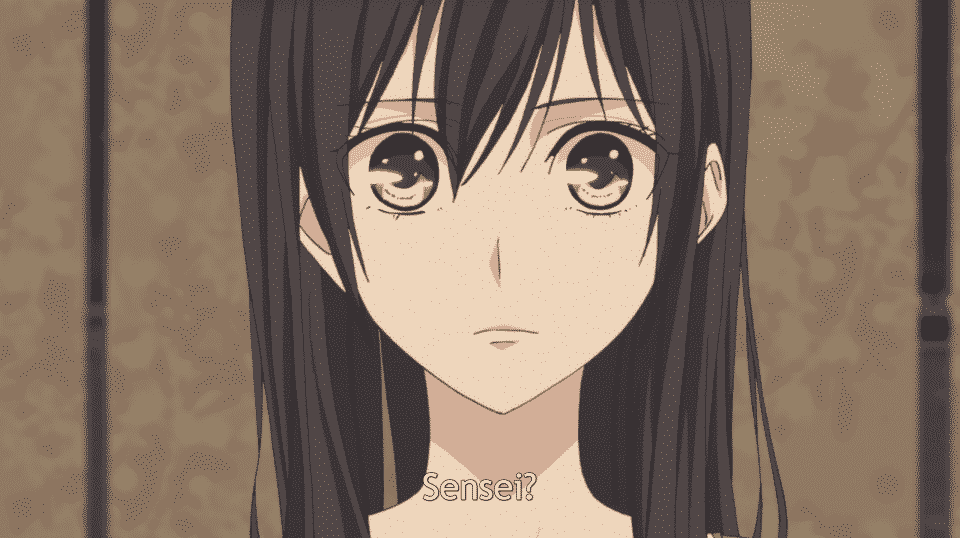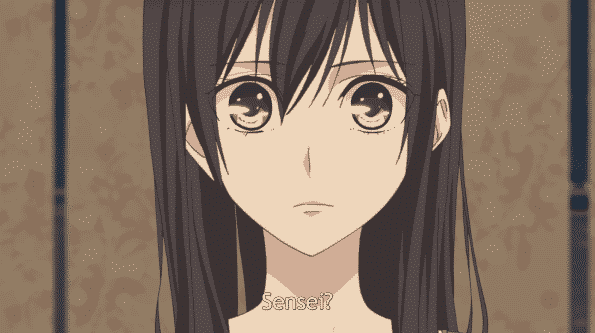 Something he does do, at the end of the episode, with a semi-surprising visit, but until that moment, Mei's reveal pushes a mature thought into Yuzu's head. Said thought being, she can't legitimately pursue Mei romantically anymore. If only because, what Mei needs isn't a girlfriend but family, a sister. Someone who, when Mei is overworking herself, forces her to rest. A person who reminds Mei that she is a student, a teenager, and she shouldn't be doing the work of adults. What she should be doing is going to amusement parks and having fun.
Heck, just to show how serious Yuzu is, and perhaps how mature she is, despite appearances, she even pushes Mei to apologize to Himeko after Mei tells her off. Not because of guilt or any involvement mind you, but because she knows Himeko, despite her methods, truly does love Mei. It is just, more than likely, Mei is all she has and that can drive a person crazy. Especially as your dynamic changes and you realize that while they may be your one and only, you are not there's.
Question(s) Left Unanswered
How did Okogi, Yuzu's dad, die?
Highlights
A Different Side To Yuzu, And The Anime Love Interest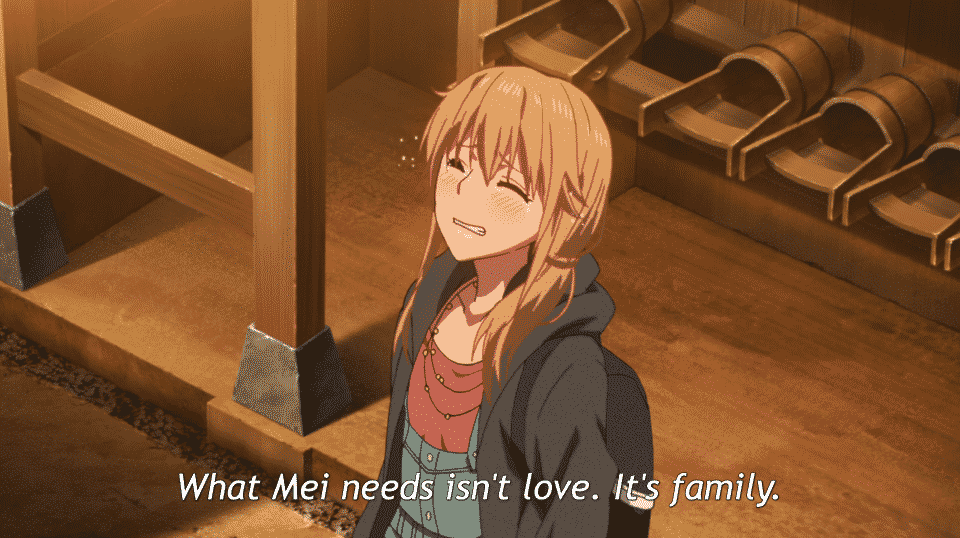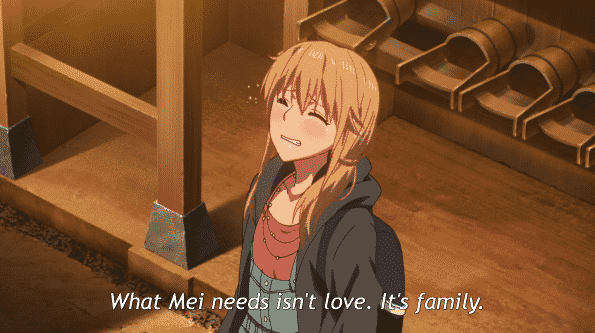 Generally speaking, I think the majority of the anime covered has had some sort of relationship in it. One which often can be considered selfish. It was all about the lead trying to recapture the feeling of the first meeting, first kiss, or their happiness, and we'd have to wait damn near to the end for them to get that it isn't all about them. If not a major moment where they majorly screw up. So for Citrus to sidestep all that and Yuzu to realize how selfish she is being, in episode 5, is a little bit surprising.
If only because Yuzu comes off as your usual love interest. Someone who is impulsive and doesn't really do much to compromise with her partner yet has the occasional moment in which you forgive this. Be it her staying by her mean grandfather's side, after he expelled her, or realizing that what Mei needs is family more than an overly aggressive lover. Especially considering one person after another violates her, despite her protesting what they are doing.
But, sadly, I don't feel like this is going to last.
Papa Shou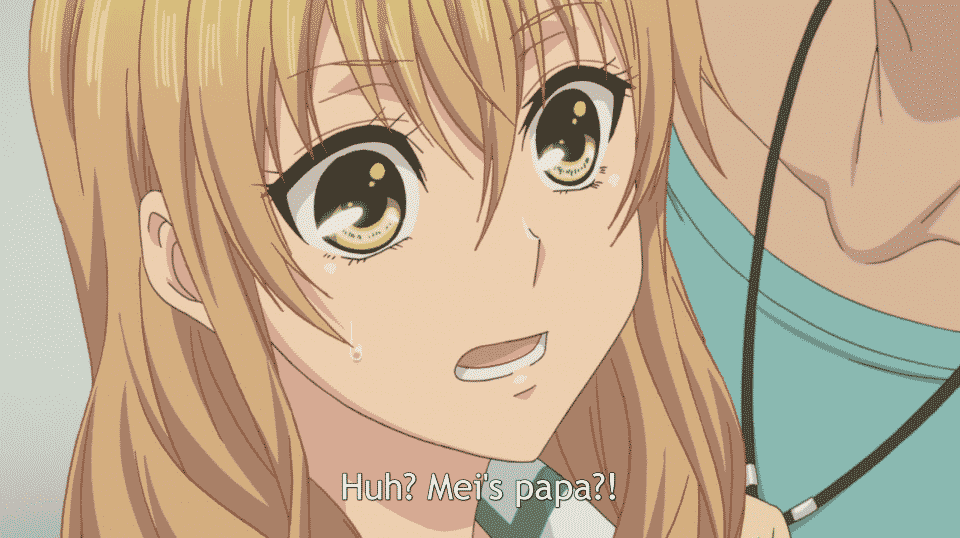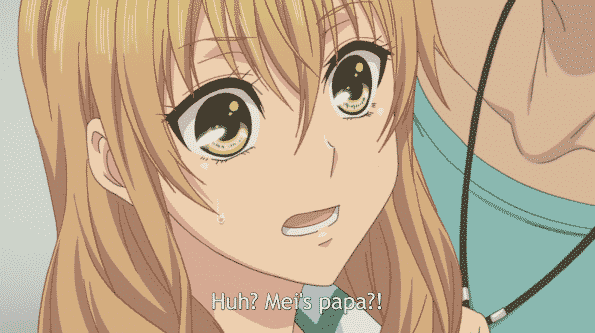 I really was expecting Shou to be some hardened businessman who barely took note of his daughter after he got a better opportunity than managing a school. Alongside that, a part of me, considering how messed up this show is, was wondering if maybe the reason Mei didn't touch her father's letters, and yet still longed for her dad, was because something inappropriate happened. Be it him doing something to or with a student, her, or something else, that is why he left so abruptly and hasn't been involved or around that school or Mei sense.
In my mind, it would also explain why the grandfather, in the few times we saw him, didn't bring up his son at all. However, it seems I was going in the wrong direction for Shou just might be a slacker. Well, at least in terms of what he is wearing and the persona presented, he likely is a slacker. The kind who probably left because his father didn't want his granddaughter picking up his habits. But then comes the question of what was the moment which led to him leaving? Much less, not seeing his daughter in 5 years?
With Mei not reading her letters, it shows that she is still not over it but also that Shou has tried to reach out to her. So it should be interesting as this mystery gets solved. Especially if Yuzu decides to really help these two mend bridges.
---
Follow Wherever I Look on Twitter or Like us on Facebook.
---
Previous Episode's Recap
[visual-link-preview encoded="eyJ0eXBlIjoiaW50ZXJuYWwiLCJwb3N0IjoxNjk0NSwicG9zdF9sYWJlbCI6IlBvc3QgMTY5NDUgLSBDaXRydXM6IFNlYXNvbiAxLyBFcGlzb2RlIDQgXCJMb3ZlIE1lIERvXCIgLSBSZWNhcC8gUmV2aWV3ICh3aXRoIFNwb2lsZXJzKSIsInVybCI6IiIsImltYWdlX2lkIjoxNjk0NiwiaW1hZ2VfdXJsIjoiaHR0cHM6Ly93aGVyZXZlci1pLWxvb2suY29tL3dwLWNvbnRlbnQvdXBsb2Fkcy8yMDE4LzAxL0NpdHJ1cy1NZWkucG5nIiwidGl0bGUiOiJDaXRydXM6IFNlYXNvbiAxLyBFcGlzb2RlIDQgXCJMb3ZlIE1lIERvXCIgLSBSZWNhcC8gUmV2aWV3ICh3aXRoIFNwb2lsZXJzKSIsInN1bW1hcnkiOiJBcyBIaW1la28gbWFrZXMgaGVyIHNpZ25pZmljYW5jZSBpbiBNZWnigJlzIGxpZmUga25vd24sIGl0IHRocm93cyB3aGF0ZXZlciBZdXp1IHdhcyBidWlsZGluZyB0b3dhcmRzIGludG8gY2hhb3MuIiwidGVtcGxhdGUiOiJkZWZhdWx0In0="]