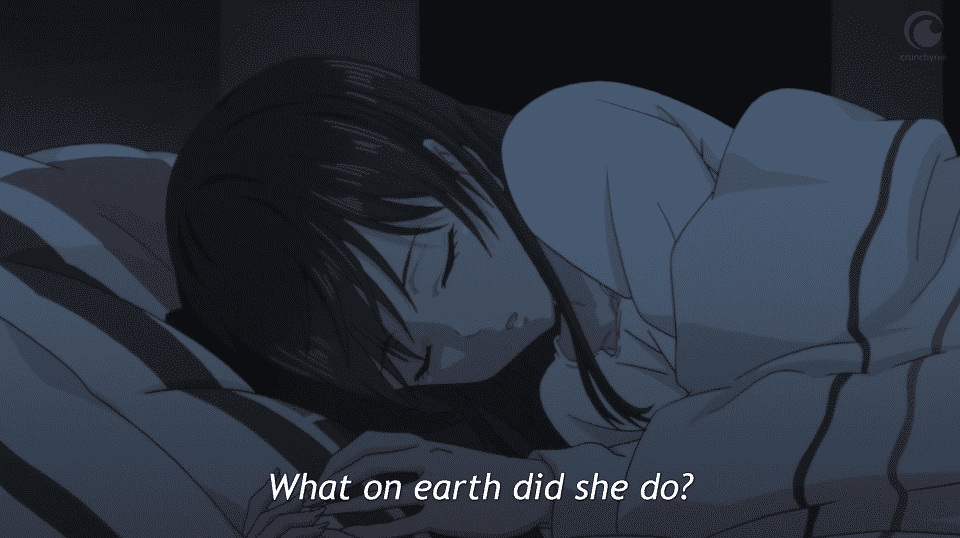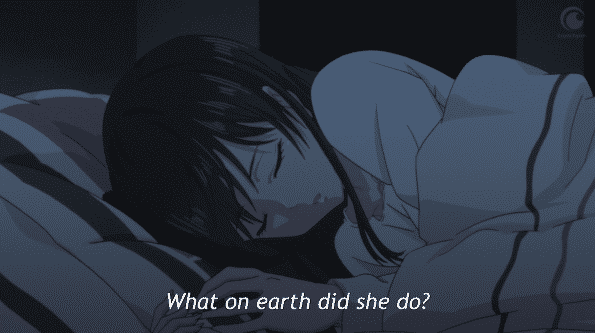 As Himeko makes her significance in Mei's life known, it throws whatever Yuzu was building towards into chaos.
---
Network
Crunchyroll
Director(s)
Takeo Takahashi
Writer(s)
Naoki Hayashi
Air Date
1/27/18
---
Episode Focus: You Shouldn't Try To Take What Isn't Yours | Mei, Himeko, Yuzu, Harumin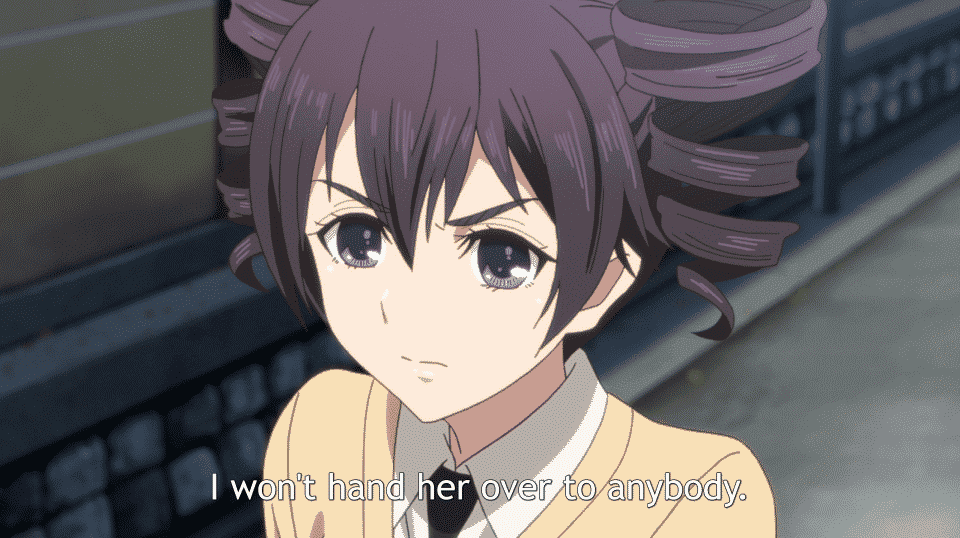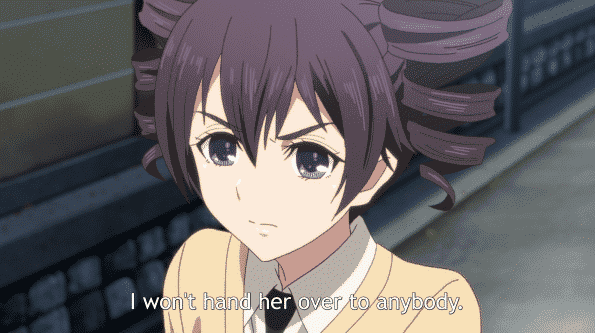 After being a bit aggressive with Mei, Yuzu is so embarrassed of her actions that she decides to spend the night at Harumin's to recover. Yet, despite being a bit of a coward, she kind of wants to know how Mei feels about the situation. Yet, before that gets to happen, Himeko, Mei's student council vice president, and friend for over 10 years, storms into her life.
Her introduction, which is far from friendly, leads to multiple pushes to learn what happened in the chairman's office. However, what ends up happening is Himeko answering more questions than Yuzu. Thus revealing how life used to be approximately 10 years ago.
For example, Mei smiled more. Of which the reason seemingly was her father being around and teaching her so much. Now, granted, she oddly calls her dad sensei, but considering how happy she was with him around vs. when absent, it shows he does mean quite a lot to her. As does Mei mean to Himeko. So, with Yuzu coming out of nowhere, of course, she feels threatened.
In fact, as it becomes clear Mei is hiding stuff from Himeko, like Yuzu being her sister, and them having secrets, she decides she can't be complacent anymore. But, rather than confessing she has feelings, she instead coerces Mei and takes advantage of her. Thus pushing the idea, at least in Himeko's head, since Mei perhaps didn't resist, that they are in a relationship now so Yuzu can back off.
Commentary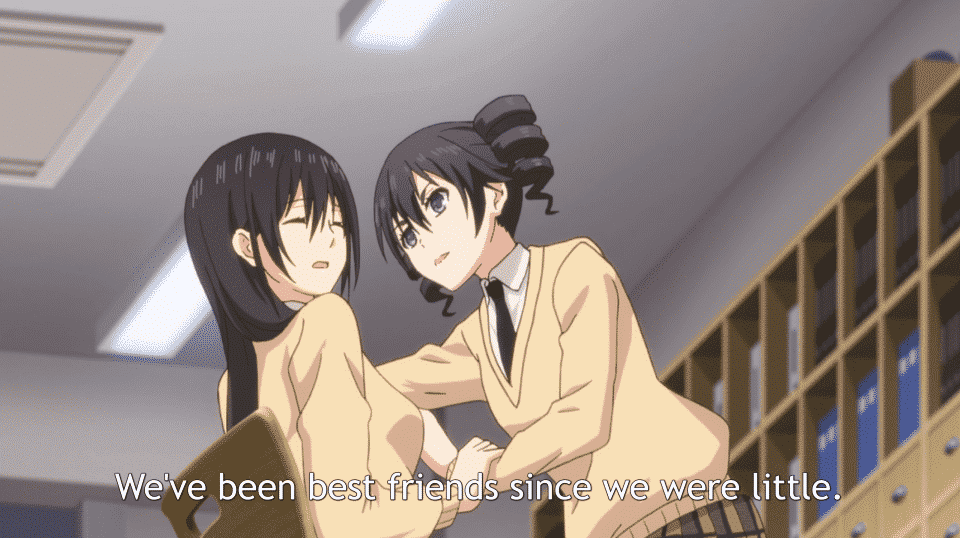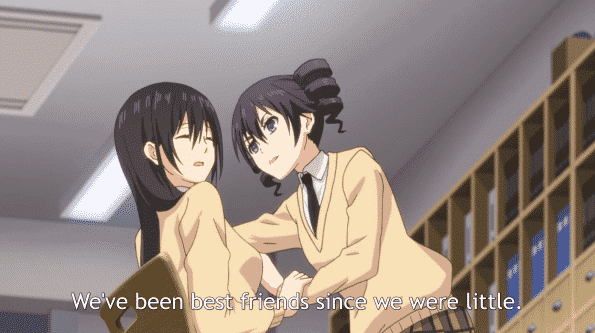 In a recent episode of "Small Doses" with Amanda Seales, there is a conversation or story about the type of coercion Himeko presents. One in which, without much enthusiasms, after being pestered so long, either Amanda or her guest decided to sleep with the guy requesting sex. Now, I bring that up since the way Himeko is allowed to act with Mei, it triggered the memory of that story. Having sex with someone not because you want it or think you'll enjoy it, but simply because they are pushing the idea to the point it is just annoying – if not presents this idea you won't be safe if you don't give in.
But what makes this particular situation worse is that you can see Himeko is subjecting Mei to a power move. As Himeko notes, she has been there for Mei over the course of 10 some odd years. So that makes her privy to a lot of things which have happened and brings about the sort of leverage most friends wouldn't take advantage of. So for her to pull the kind of move I'm sure Amamiya did, showed what kind of person Himeko truly is.
And while one could argue that Mei has also done some things to Yuzu which were inappropriate, let's add in that Himeko knows the situation between Mei and her father, alongside her grandpa. Clearly, Mei is keeping her nose clean and being exemplary so that there is one less reason for her father to not see her. Much less, one less reason for her grandfather to be angry about one thing or another. So, with that in mind, what could Mei say if she did report Himeko? Especially as Himeko could flip the script and say she initiated it or even bring up Yuzu and Mei in the chairman's office.
To summarize, while Mei certainly isn't a saint, Himeko sort of repeating the pattern of abuse that Yuzu seemingly stopped when she outed Amamiya, makes me question their friendship.
Question(s) Left Unanswered
Did Mei's dad leave in disgrace or something? She talks about holding a spot for him to return to, as a kid, and it pushes the idea he didn't necessarily leave on the best, or even his own, terms.


---
Follow Wherever I Look on Twitter or Like us on Facebook.
---
Previous Episode's Recap
[visual-link-preview encoded="eyJ0eXBlIjoiaW50ZXJuYWwiLCJwb3N0IjoxNjYwMiwicG9zdF9sYWJlbCI6IlBvc3QgMTY2MDIgLSBDaXRydXM6IFNlYXNvbiAxLyBFcGlzb2RlIDMgXCJTaXN0ZXJseSBMb3ZlXCIgLSBSZWNhcC8gUmV2aWV3ICh3aXRoIFNwb2lsZXJzKSIsInVybCI6IiIsImltYWdlX2lkIjoxNjYwMywiaW1hZ2VfdXJsIjoiaHR0cHM6Ly93aGVyZXZlci1pLWxvb2suY29tL3dwLWNvbnRlbnQvdXBsb2Fkcy8yMDE4LzAxL0NpdHJ1cy1TZWFzb24tMS1FcGlzb2RlLTMtU2lzdGVybHktTG92ZS1ZdXp1LWFuZC1NZWkucG5nIiwidGl0bGUiOiJDaXRydXM6IFNlYXNvbiAxLyBFcGlzb2RlIDMgXCJTaXN0ZXJseSBMb3ZlXCIgLSBSZWNhcC8gUmV2aWV3ICh3aXRoIFNwb2lsZXJzKSIsInN1bW1hcnkiOiJZdXp1IGlzIGVuc25hcmVkIGluIE1laeKAmXMgZ2FtZXMgYW5kIGZpbmRzIGl0IGRpZmZpY3VsdCB0byBrbm93IHdoZXRoZXIgaGVyIGJ1cmdlb25pbmcgZmVlbGluZ3MgYXJlLyBjYW4gYmUgcmVjaXByb2NhdGVkIG9yIGlmIE1laSBpcyBqdXN0IHRveWluZyB3aXRoIGhlcj8iLCJ0ZW1wbGF0ZSI6ImRlZmF1bHQifQ=="]
---