At this point, Angels of Death is working off a horror anime checklist. So adjust your expectations as low as possible or you will not enjoy the ride.
---
Network
Crunchyroll
Director(s)
Kentarou Suzuki
Writer(s)
Yoshinobu Fujioka
Air Date
7/27/2018
Actors Introduced
Cathy
Ise Mariya
Welcome To The Jail House: Cathy, Zach, Rachel
A new floor and a whole new challenge. Mostly in the form of a floor judge who doesn't desire to be in contact with her subjects. Rather, she likes putting out challenges which, if not passed, that will kill you. This makes for an interesting change of pace but also is very frustrating for Isaac. Especially as he deals with her first challenge which is Zach in an electric chair and Rachel solving the puzzle. This is followed by a second one which asks of them to solve a puzzle or die due to poisonous gas.
Commentary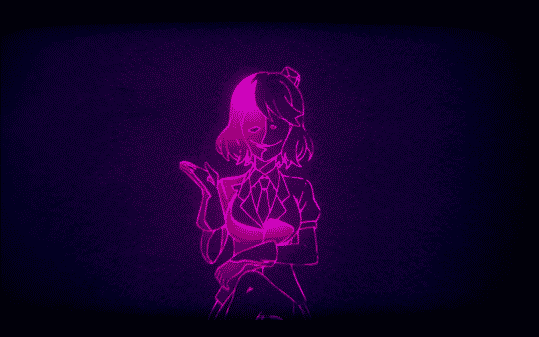 So, Cathy likes to lick her lips a lot and has a crazy ass laugh. I feel like I should look up a list of tropes to see what has and hasn't been done. More than likely, we're probably halfway through such a list and so begins my issue with this show. It seems so formulaic. New floor, new psycho, solve the challenge, likely kill the psycho, and move on.
Something which sucks for me since, with how we got to learn about Zach in the previous floor, it leads you to wonder why these other people are in this torture building? Do they share Zach's background, do they feel trapped or are they perfectly fine? The lack of development is unfortunate and it makes them feel so disposable. Which, considering how generic they currently are, it puts a real damper on the show. Especially since, alongside each floor's psycho, Rachel remains a mystery. If not the straight man to Zach's manic comedic style.
Question(s) Left Unanswered
So is Cathy the one who was watching from the cameras and guiding Rachel before? Alternatively, does each floor's judge/ psycho have access to the cameras but most prefer to just hunt?
How many people really make it this far?
Low Points
The show has come to a point where you are either hate watching it, watching it on auto-pilot or still have some slim hope things could get better. Even though there are no significant signs it will.
Follow Wherever I Look on Twitter, Like us on Facebook and Subscribe to the YouTube Channel.
---
Previous Episode's Recap
[visual-link-preview encoded="eyJ0eXBlIjoiaW50ZXJuYWwiLCJwb3N0IjoyNDUxNSwicG9zdF9sYWJlbCI6IlBvc3QgMjQ1MTUgLSBBbmdlbHMgb2YgRGVhdGg6IFNlYXNvbiAxLyBFcGlzb2RlIDMgXCJJIFN3ZWFyIHRvIEdvZFwiIC0gUmVjYXAvIFJldmlldyAod2l0aCBTcG9pbGVycykiLCJ1cmwiOiIiLCJpbWFnZV9pZCI6MjQ1MTcsImltYWdlX3VybCI6Imh0dHBzOi8vd2hlcmV2ZXItaS1sb29rLmNvbS93cC1jb250ZW50L3VwbG9hZHMvMjAxOC8wNy9BbmdlbHMtb2YtRGVhdGgtU2Vhc29uLTEtRmxvd2VyLnBuZyIsInRpdGxlIjoiQW5nZWxzIG9mIERlYXRoOiBTZWFzb24gMS8gRXBpc29kZSAzIFwiSSBTd2VhciB0byBHb2RcIiAtIFJlY2FwLyBSZXZpZXcgKHdpdGggU3BvaWxlcnMpIiwic3VtbWFyeSI6IkFuZ2VscyBvZiBEZWF0aCBpcyBvbiBpdHMgd2F5IHRvIGJlY29taW5nIGEgZGlzYXBwb2ludG1lbnQgYXMgaXQgZGVsaXZlcnMgYW5vdGhlciBsYWNrbHVzdGVyIGVwaXNvZGUuICIsInRlbXBsYXRlIjoiZGVmYXVsdCJ9″]