It's Christmas Time! Which means Adachi gets to spend the day with Shimamura. But will her anxiety keep her from having a good time, maybe even confessing?
---
| | |
| --- | --- |
| Director(s) | Kuwabara Satoshi |
| Writer(s) | Oochi Keiichirou |
| Aired (Funimation) | 11/13/2020 |
This content contains pertinent spoilers. Also, images and text may contain affiliate links, which, if a purchase is made, we'll earn money or products from the company.
Recap
The Perfect Gift – Adachi, Hino
Adachi's anxiety is at its peak as she tries to figure out what to give Shimamura and how to classify the day they are going to spend together. Is it a date, just hanging out, what to consider it? Luckily, Hino decides to hang out with Adachi for the gift part and provides some Grade-A assistance with a perfect gift – some tea! Specifically, one which is named "Legend of Africa." A tea Hino saw Shimamura eye when those two last hung out.
I Really Like You And Want To Be… – Adachi, Shimamura
And despite Hino, originally, being unsure if that was the exact tea Shimamura was interested in, the gift is a success! Also, when she spotted Shimamura earlier with Nagafuji, Adachi learned that was about Nagafuji helping Shimamura decide on a gift for Adachi. Which, rather than tea, a toy, or clothing, it's a boomerang.
Why? Well, because Nagafuji was under the impression that Shimamura was purchasing something for her little sister rather than Adachi. Yet, even with such an odd gift, Adachi is in bliss to spend the day with Shimamura and hold her hand. Which leads to her wanting to confess her feelings.
However, the words don't come out as she wanted to. She does confess she likes Shimamura, even loves her, but she can't say what needs to be said to convey she wants to be more than friends. At least in the capacity of a girlfriend. Luckily, Adachi does find herself able to note she does want to be Shimamura's best friend, though. So, consider this a step in the right direction.
Review
---
Community Rating:
---
Highlights
Progress Is Being Made – Albeit Slowly [84]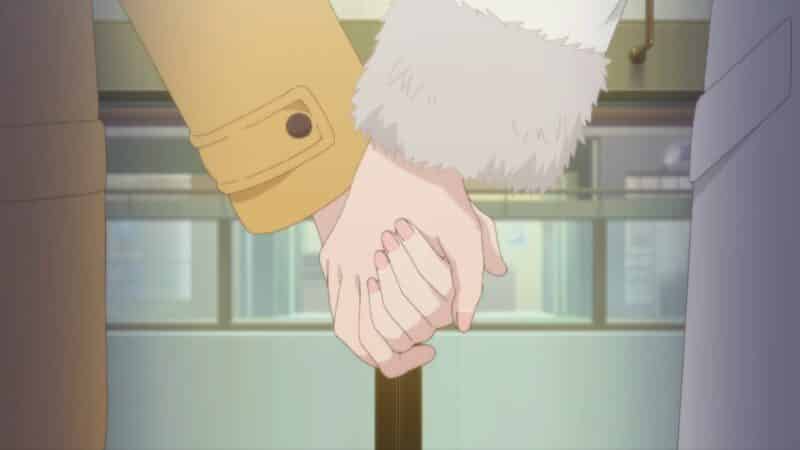 With an estimated 12 episodes, we're halfway through the season, and I think we're progressing nicely. Adachi seems more and more sure of her feelings, it's just how to express them in a way that Shimamura would receive? Also, as shown by Adachi's jealousy when seeing Shimamura and Nagafuji alone, she has to work on allowing Shimamura to not belong exclusively to her.
Which Shimamura has tried to work with her on, as friends, but as a potential girlfriend, the challenge could be much more difficult and may call for some boundaries being drawn.
Summary
---
Community Rating:
---
Progress Is Being Made – Albeit Slowly - 84%
Adachi continues to make progress towards her ultimate goal of Shimamura's heart. However, whether or not Shimamura not only understands Adachi's feelings but also returns them, remains to be seen.