It's almost like Adachi and Shimamura's relationship hits the resent button with a new school year beginning.
---
| | |
| --- | --- |
| Director(s) | Kuwabara Satoshi |
| Writer(s) | Oochi Keiichirou |
| Aired (Funimation) | 12/10/2020 |
This content contains pertinent spoilers. Also, images and text may contain affiliate links, which, if a purchase is made, we'll earn money or products from the company.
Recap
Who Hit The Reset Button? – Adachi, Shimamura, Tarumi
With a new school year starting and Shimamura back to her natural hair color, it seemed things were going to continue as they always had. Adachi would follow Shimamura like a puppy and note it, Adachi would feel embarrassed, but slowly but surely get used to, even love the idea.
However, within days, if not weeks, Adachi finds herself distancing herself from Shimamura again. Why? Well, because she finds other people encroaching on her territory. Three girls, who Shimamura, as she does with many, humor, move in, and Adachi decides to run out. And being that Shimamura has grown tired of this, to a certain degree, she doesn't chase Adachi. She lets her be.
Thus creating a bit of a void, even the familiar face of Tarumi can't fill. For even with Tarumi having Adachi's best traits, she is no Adachi, and that's all who is on Shimamura's mind.
Is This Too Close For Comfort – Hino, Nagafuji
The confusion continues. What is exactly going on between these two? We go from Hino being inappropriate, with grabbing Nagafuji's breasts, to them taking a bath together with Nagafuji welcoming it and pulling Hino in close. Not to forget the forehead kisses, which can be seen as innocent, but further pushes that these two are in a relationship that simply hasn't been made official.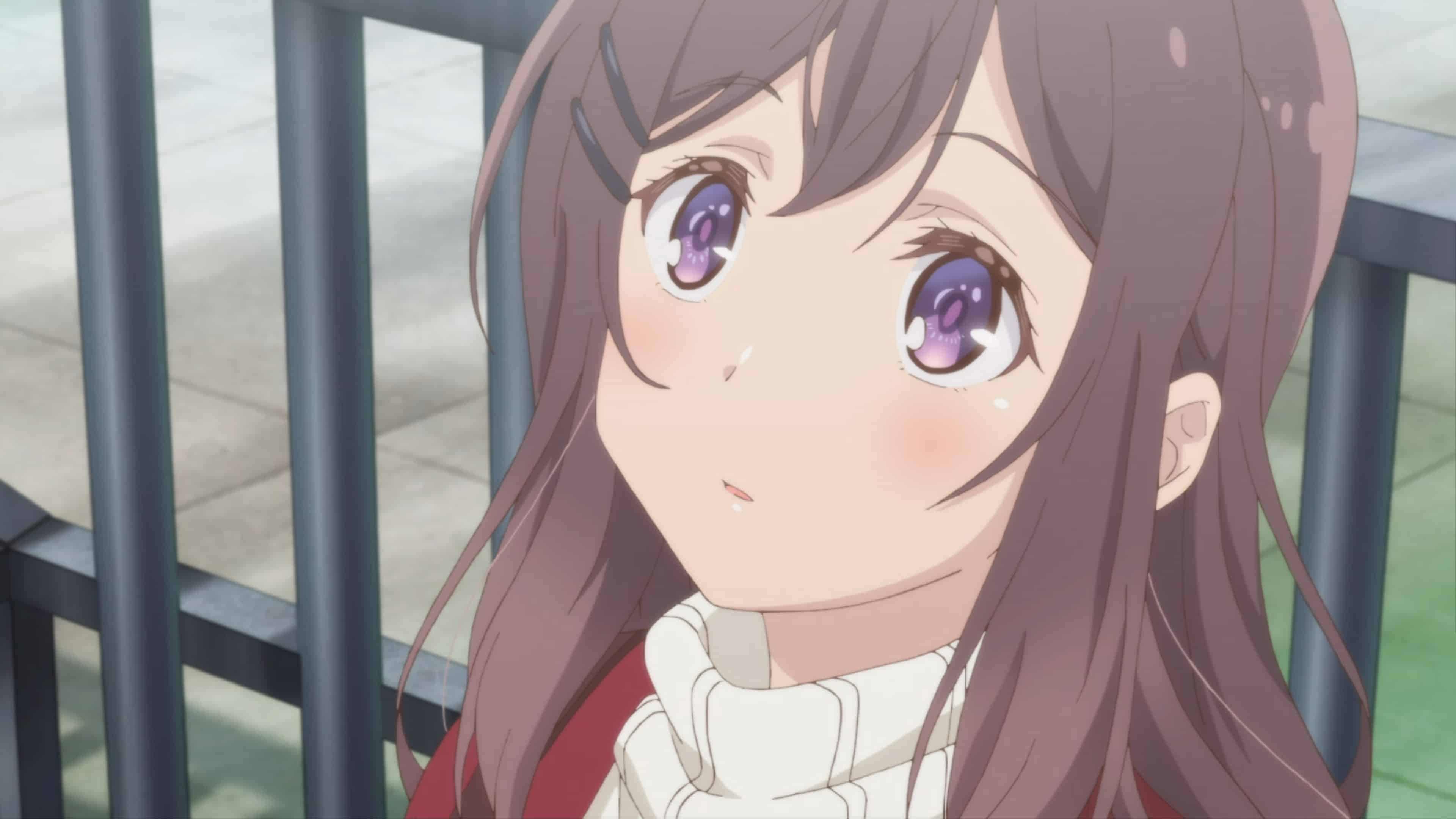 So Are We Talking Again? – Adachi, Shimamura
After weeks, if not months, of skipping school and just disappearing off the face of the Earth, Adachi reappears and pushes herself to talk to Shimamura while she is eating with her new friends. Leaving you to wonder, since Shimamura did miss Adachi, will they pick up where they left off or address the silence that Adachi seems way too good at.
Review
---
Community Rating:
---
Low Point
We're Not Given Much Reason To Have Faith In These Two
Did we really spend an episode that first gave us a bit of an origin story, hopped into their sophomore year, and after a reminder of how cute these two could be, put them on pause? DID WE REALLY WASTE AN EPISODE BY HAVING ADACHI IN HER FEELINGS AND RUNNING AWAY? Where is the growth? I thought she was passed this after Hino and Nagafuji would be around Shimamura?
And you know what makes it worse? Shimamura not running after her or texting her. For a part of you feels that she is in the right, because Adachi can't keep doing this. Never mind, as much as Shimamura adores Adachi, if she was uncomfortable around those girls, pick up a phone. It has been nearly a year, surely she doesn't think Shimamura abandoned her like she might feel her mom did, right?
But what perhaps bothers me the most is we got a few episodes left, and now there is a serious need to question, can this even end on a high note? Much less one that doesn't feel utterly last minute because, between Adachi explaining herself and it clicking that Adachi likes Shimamura, romantically, can that be done quickly and not cheaper the journey we've been on?
On The Fence
So, Do Hino and Nagafuji Have Something Going On Or No?
I'm honestly not sure if Hino and Nagafuji are meant purely to be ecchi and be the hook for viewers who want softcore yuri, or if we should see them as a legit relationship or friendship in need of boundaries. Because the way things are evolving, Hino seems to be down for fun and games in a friendly but inappropriate way.
With Nagafuji? This episode made it seem the kisses on the forehead, alongside them exchanging chocolate and all that, you shouldn't take that lightly. She may have genuine feelings there, but she is pushing to see if they can be reciprocated when it's not Hino being playful.
Summary
---
Community Rating:
---
So, Do Hino and Nagafuji Have Something Going On Or No? - 74%
We're Not Given Much Reason To Have Faith In These Two - 67%
Considering we're running out of time, Adachi and Shimamura presenting a setback for the main relationship raises an eyebrow. For while good enough for one season, can this be two? Never mind, if it rushes the resolution we desire, will it feel cheap?