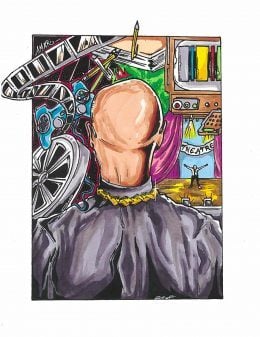 |
While Stock Option has a strange title and takes some conventional routes as a romantic comedy, it has this odd charm which makes it likable.
Characters & Story (with Commentary)
An up and coming model named Alina (Antonique Smith) finds herself questioning some of her decisions. She has a man named Reggie (Todd Anthony) who is on the come up with his acting career, who says he wants her and loves her, but isn't the same guy she once knew, and then she has this guy Marvelous, who goes by Marv (Amin Joseph) who when she meets he is homeless. Thing is, Marv is seemingly everything Alina loved in Reggie before his ego inflated and while her heart wants to give Marv a chance, the man has secrets.
However, her problems aren't only in her personal life. Professionally she is really trying to broaden her financial profile and her financial advisor William (Aaron D. Spears) is playing games. On top of that, her friend/ manager LaTonja (Tasha Smith) seems to be wary of a lot of the people Alina keeps around her. Not to the point that those two bump heads, but she does complicate Alina's thoughts as she gives her blunt, and sometimes tactless, opinions of Alina's life.
Highlights
It Finds a Way to Be a Little Hood, A Little Religious, And A Little Funny: Stock Option finds part of its charm by having middle-class Black folks who haven't forgotten where they came from. Meaning, as much as William maybe a financial advisor with a nice office, or LaTonja a business owner, they will code switch in a minute and crack you up in the process. Also, I feel like the movie has an authentic amount of religion in the film. What I mean by this is, religion isn't an overbearing subject matter like it was in I'm In Love With a Church Girl, but rather appropriately sprinkled in to let you know each character has faith, but it isn't the be all to end all. To put it another way, for those who are Black, and possibly Latinx, and associate with those who are religious, but not holy rollers, that is how much religion is sprinkled within the plot.
Tasha Smith, With Opportunity, Could Be On Taraji P. Henson's Level: Like Ms. Henson, I feel like Smith, who is her co-star on Empire, has this shtick which could take her past niche movies like this. The problem is, as Viola Davis said during her Emmy speech, there is lack of opportunity. For she can be brash and funny, and yet I think what could easily be dismissed as her being ghetto could, by the right director, be refined into a real quality performance. Be it of a comedic or dramatic variety.
It's A Little Bit More Complicated Than Expected: In the film, it isn't just Alina who has relationship issues. Marv too has relationship issues for previous to him becoming homeless, he was engaged and there is a serious lack of closure with that relationship. To the point that, as thing go south with him and Alina, it almost seems like maybe he can, and should, rekindle things with his ex. An option which honestly doesn't seem that bad and gives you mixed feelings in terms of how the movie could handle Alina and his relationship.
Low Points
Has Your Usual Romance Movie Drama: Sadly, this movie has that old cliché of a major secret coming out that puts a pause on the two leads' relationship and yet, by some miracle, a 2nd chance is obtained and it seems things will be alright.
On The Fence
It Can Be Cheesy and Corny: While the inclusion of Marv's ex, Sabrina (Mia Rutledge), brings a very interesting twist to things, unfortunately, most of the movie, arguably, can seem very direct to DVD. The acting, for example, isn't the greatest, nor the chemistry, and while some may find the actors funny, others may find them over the top, ghetto, and possibly just stale. I think it is all about tastes, though.
Final Thought(s): TV Viewing
I don't think this movie has mainstream appeal, but for those who like the actors in them, or are cool with low budget urban comedies, you'll get some kicks out of this. And while it does rely on the tried and true formula for romance films, it does present a nice little twist to complicate things. Something I wish was dived into a bit more, but what is presented is decent enough to spend a Sunday afternoon with. Especially if nothing else is on.