Asphalt Playground (La cité rose) – Overview/ Review (with Spoilers)
I stumbled upon this film accidentally and took a leap of faith on watching it since IMDb didn't, as they usually do, have a trailer available and searching the movie's title didn't point me in any direction to find one. However, from the poster I saw a bunch of happy- go-lucky kids playing in a…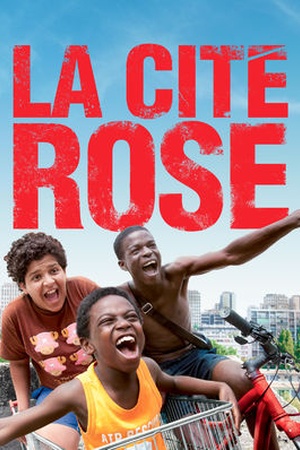 I stumbled upon this film accidentally and took a leap of faith on watching it since IMDb didn't, as they usually do, have a trailer available and searching the movie's title didn't point me in any direction to find one. However, from the poster I saw a bunch of happy- go-lucky kids playing in a shopping cart and figured, why not? Here is to having a leap of faith.
The characters focused on in the story are all from the same family. Seemingly, they are either from the West Indies or Mali and the focus is on two brothers and their little cousin. The oldest brother Djibril (played by Ibrahim Koma) is studying corporate law in Paris and hiding his white girlfriend from his family since the mere idea of him bringing her home is seemingly taboo; we then have Isma (played by Diabate Idrissa) who is Djibril's younger brother who seemingly is on a completely different path than Djibril and is involved in the local project gang; and lastly, we have their little cousin known as Machine Gun (played by Azize Diabate Abdoulaye) who is a 12 year old discovering love.
For this film, the story feels slightly familiar but I can't place my finger on why. The story is split between the three characters and we see Machine Gun trying to win over this young girl Oceane (played by Anais Begue) after he is pushed to do so by making a bet with his best friend and trying to make his cousin Isma proud, and this fills up his story. We then have Isma who walks into becoming a lookout for cops for the local project gang, but then tries to get in deeper by being more involved, including arranging a drug deal for them and stealing a car. But, for Isma, his attempt at switching to a criminal life isn't smooth for the local gang doesn't respect him and his family, especially his mom and Djibril, stay on his behind. Which leads to us talking about Djibril. He is a law student who seemingly lives with his privileged White girlfriend, and the reason I mention she is White is because that fact affects their relationship. Though not heavily gone into, Djibril's story has a touch of racial and cultural issues, both in terms of what is happening in France and the issues of interracial dating. It makes for an interesting subplot, his life, but he probably gets the least focus out of the family.
As a whole though, I quite liked this movie. It presented a cute story with Machine Gun's quest to win a bet and eventually try to win the heart of this girl in his class; Isma's story brought a lot of action into the film which helped to keep you into the movie; and with Djibril, his commitment to his principles and the conflict of having one foot in one culture and one foot in another, I felt was something interesting to see, despite it not being fully explored. Another thing I quite liked was how each character felt fleshed out enough to, maybe not know their names, but at least be able to know where they stand and what importance they had. Also, I quite admired the way family was shown in this film, as well as Isma, Djibril and Machine Gun's culture. Being someone unfamiliar with French culture, much less those who immigrated there, I found the bits and pieces given to be interesting and left me wanting for more.
Which in a way was an issue with this film. Though the three way split in the movie helps it, it also hurts it. I feel like each character probably had enough presented to have their own film, with Djibril and Machine Gun having the most, and best, material to work with. Djibril's story has so many interesting topics that should have been fleshed out more, and I felt his issues with the duality of his identity and his headstrong personality could have made a compelling movie on its own. I must say though, some of his treatment toward his girlfriend Lola (played by Juliette Lamboley) gave me pause, but I think that if we got a chance to explore their relationship, it would have been interesting. The same goes for Machine Gun. I would have liked Isma to have been a minor character in his story and Machine Gun having a full on story with him learning about love, and trying to win the affections of his dream girl.
Overall: Worth a Rental
I won't say this movie is worth owning because I can't see myself watching it more than once. However, it is definitely worthy of watching on a day off when you have nothing to do. It's entertaining enough to keep you awake and, unless you don't like subtitles, I can't think of any major reason to avoid watching this.