Fear Street Trilogy Cast and Character Guide (with Ending Spoilers)
A guide for the film trilogy "Fear Street." Noted are cast members, information about their character(s), and additional details about the film's story and characters.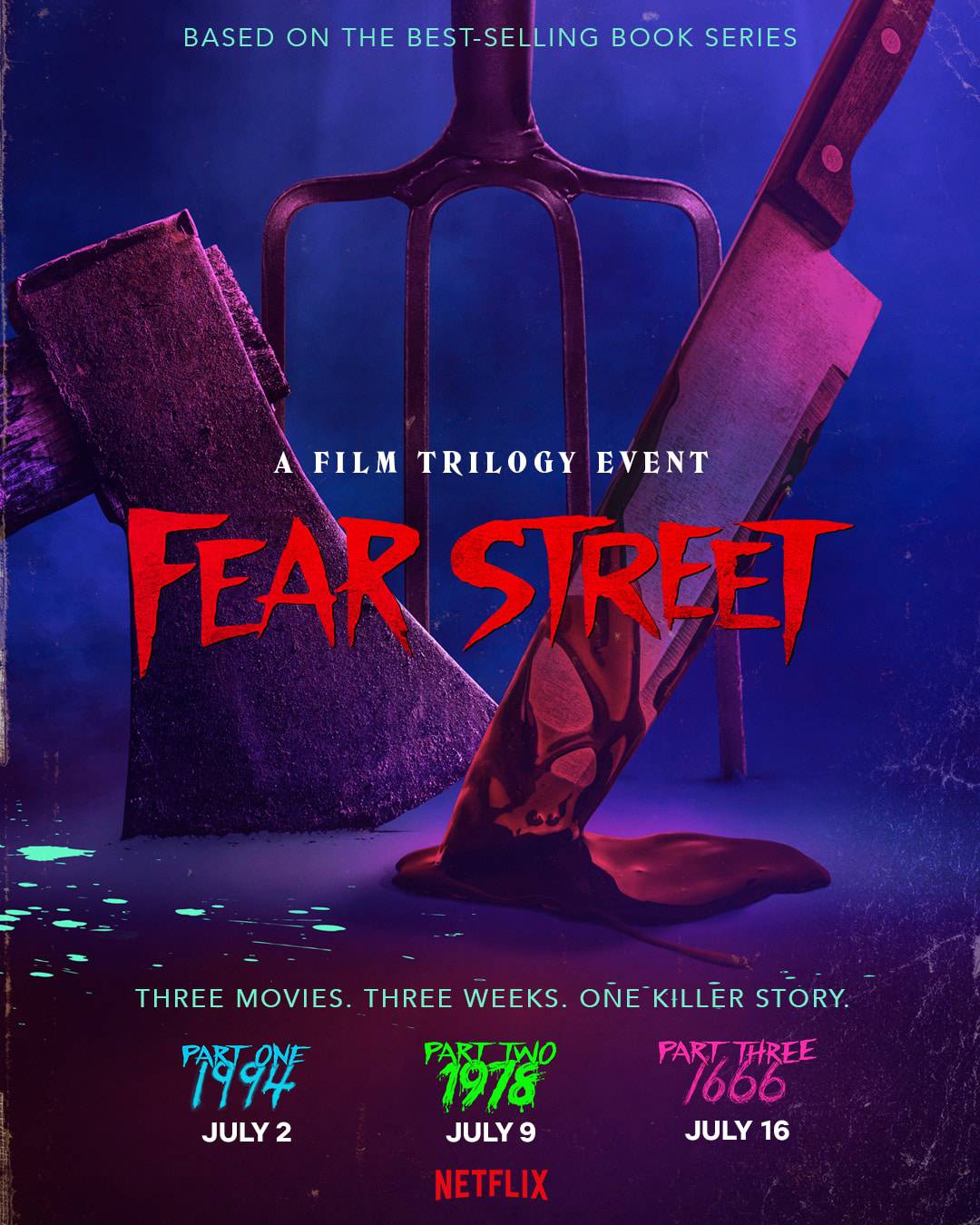 A guide for the film trilogy "Fear Street." Noted are cast members, information about their character(s), and additional details about the film's story and characters.
---
Please Note: This content contains pertinent spoilers, the post is updated as new information is presented, images changed as better ones are captured, and this is not an exhaustive list of every cast member.
General Information – Fear Street Part 1 1994
| | |
| --- | --- |
| Director(s) | Leigh Janiak |
| Screenplay By | Kyle Killen, Phil Graziadei, Leigh Janiak |
| Date Released | 7/2/2021 |
| Where Can You Watch? | Netflix |
Plot
The hanging of Sarah Fier, an accused witch, has seemingly cursed the town of Shadyside for generations, thus leading to, around every 12 or so years, a notable, newsworthy series of murders. Yet, their neighboring town, Sunnyvale, hasn't had a violent crime in 30 years. Yes, they've lost people due to the psychos of Shadyside, like at a recent mall massacre that killed eight people. However, none of the crazies ever come to or from their town and cause trouble.
Some may submit that it is because of Mayor Goode and his brother and Sheriff, Nick Goode. However, the truth is, at least to some like Josh, Sarah Fier cursed Shadyside and possessed each serial killer for the last 300 years. But it isn't until his sibling Deena, her former girlfriend Sam, as well as Deena's friends Kate and Simon, find themselves dealing with the killers of yore that the horror story told to kids becomes something to take seriously.
Groups & Organizations
Dalton's (Fear Street 1994): The store Heather worked at
Shadyside Mall (Fear Street 1994): The mall where the 8 person massacre happened
Notable Locations & Items
Sunnyvale: A place where there hasn't been a violent crime in 30 years and whose high school mascot is the devil

Incorporated: Officially became a town in 1666
We're Brothers: The mayor of Sunnyvale and Sheriff are brothers

Shadyside: Known as Killer Capital USA, Shadyside has a long history of serial killers, and their high school mascot is a witch

Notable Killers: Ruby Lane in 1965, a Milkman in 1950, Bill Barker killed his parents, Cyrus Miller, one of the first serial killers, would cut the eyes out of children after he killed them, and almost every 12 years there is a new serial killer

Camp Nightwing: Introduced as one of the few times someone survived a massacre done by a Shadyside serial killer
Other Noteworthy Information
The Date: 10/1/1994 things begin
The Dates Of The Next Installment: C. Berman says the events of what will be Fear Street 1978 take place 7/12/1978 to a week later
Time Span: The events of the film took place over 2-3 days
General Information Fear Street Part 2: 1978
| | |
| --- | --- |
| Director(s) | Leigh Janiak |
| Screenplay By | Zak Olkewicz, Leigh Janiak |
| Date Released | 7/9/2021 |
| Where Can You Watch? | Netflix |
Plot
For nearly four hours, after Deena and Josh break into her house, Ziggy, aka C. Berman, recounts what happened from July 12th, 1978, to the day her sister died on July 19th, 1978. During this tale, we learn the Goode brothers, the current mayor of Sunnyvale, Will, alongside the now sheriff Nick, were there that summer and even interacted with Ziggy and her older sister Cindy. However, it wasn't until Cindy's square of a boyfriend, Tommy, found himself becoming the man with the burlap sack over his head we saw in Fear Street: 1994 that people truly grew closer, despite Tommy's axe splitting them apart.
Notable Locations & Items
Camp Nightwing: The location for this entry

Color War: An annual activity in which Shadyside battles Sunnyvale in a series of competitions, that Sunnyvale usually wins.

The Tree Sarah Was Hanged: We learn the tree at Shadyside mall is the one Sarah was hanged on
Other Noteworthy Information
Union: Previously, Shadyside and Sunnyvale were the same settlement, until 1666. Also, Camp Nightwing is built right upon the settlement, hence why it ended up damned, just like Shadyside mall was.
Date: It is now October 3rd in 1994, but we jump back to July 12th, 1978 for C. Berman's story and her story ends on or around July 19th, 1978.
We meet Ruby Lane's mother, who is one of Camp Nightwing's nurses
Cast & Character Guide
Please Note: This is not an exhaustive list of every cast member.
Mayor Will Goode (Matthew Zuk)
The happy-go-lucky mayor of Sunnyvale who mostly appears to be non-controversial.
Additional Information
Fear Street 1978: Is running for re-election
Young Will (Fear Street 1978): Brandon Spink
Sheriff Nick Goode (Ashley Zuckerman)
The sheriff of Sunnyvale, who is the main one we see investigate the murders in Fear Street 1994.
Additional Information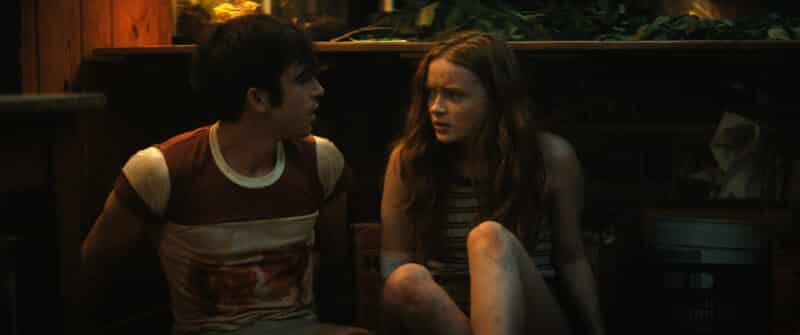 Young Nick (Fear Street 1978): Ted Sutherland
Legacy Kid (Fear Street 1978): Because of his father being the police chief, it was long expected for Nick to assume the role when he got older
Josh (Benjamin Flores Jr.)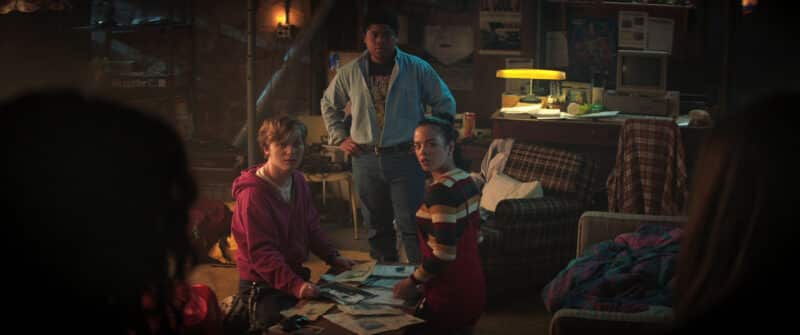 Josh is Deena's brother, who can usually be found in the basement online, who is very into Sarah Fier lore and the belief she possesses people and said people end up the Shadyvale serial killers.
Additional Information
Fear Street 1994: Has a huge crush on Kate
Fear Street 1994: Knows how to hack vending machines
Sarah Fier (Elizabeth Scopel)
Accused of being a witch in 1666, and killed the same year, she cut her hand off before being killed and has haunted and possessed members of Shadyvale ever since.
Additional Information
Fear Street 1994: It is alleged by Josh that disturbing Sarah's grave and the chains which held her causes someone to become a target of Sarah's vengeance – in Fear Street 1994's case, Sam
Fear Street 1994: It seems Sarah, when she creates a serial killer, might have that person target who they care about the most if her minions don't kill the person
Deena Johnson (Kiana Madeira)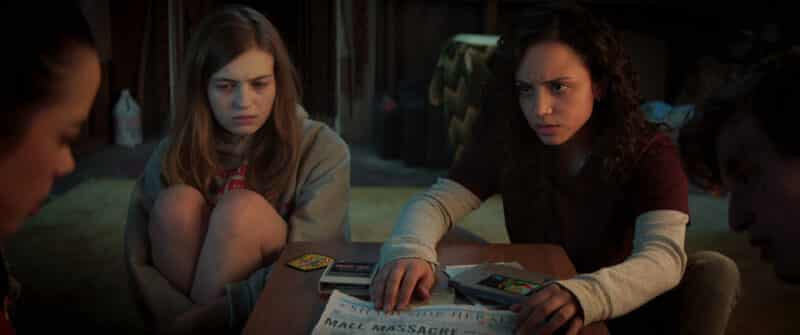 Queer and proud of it, Deena plays in the band but isn't necessarily a band geek and was dating Sam until Sam's parents divorced and Sam moved to Sunnyvale.
Additional Information
Fear Street 1994: Allegedly, Deena's dad is a drunk
Samantha "Sam" Fraser (Olivia Scott Welch)
Sam is Deena's off-and-on girlfriend whose mother doesn't support their relationship, hence Sam being closeted. However, between Sam being a cheerleader and Deena in the band, they found ways to see each other and get closer. Though, after her parents' divorce, Sam moved to Sunnyvale and, in perhaps trying to appease her mother, started dating a guy.
Kate (Julia Rehwald)
Cheerleader by day, as well as president of all the clubs at Shadyside high school, and drug dealer and babysitter by night, Kate is just looking for a way out of Shadyside by any means necessary
Additional Information
Fear Street 1994: Sold with Simon, Vicodin, and Percocet they got from a hospital nurse
Simon (Fred Hechinger)
Simon is Kate's right-hand man who helps her deal drugs.
C. Berman (Gillian Jacobs)
The sole survivor of the events in Fear Street 1978
Additional Information
Alias (Fear Street 1978): Also went by the name "Ziggy"
First Name (Fear Street 1978): Christine
Favorite Authors (Fear Street 1978): Really dug Stephen King and Judy Bloom
Heather Watkins (Maya Hawke)
Heather worked at B. Dalton's in Shadyside mall until Ryan, a boy who worked at Spencer's, killer her.
Ryan (David W. Thompson)
6'1 and 185 pounds, Ryan ends up killing 8 people at the Shadyside mall before being shot in the head by Sheriff Goode.
Alice (Ryan Sumpkins)
Alice was Cindy's best friend before Cindy began to fight off the perceived Shadyside curse and adapt to fit a more Sunnyvale image. Thus leaving her former best friend behind.
Additional Information
A Sordid Tale (Fear Street 1978): Her dad went to jail when she was 6, mom and her had to steal food so they could eat, and she started harming herself around 12
Arnie (Sam Brookes)
Arnie is Alice's boyfriend and one of the few good things going on in her life.
Thomas "Tommy" Slater (McCabe Slye)
Tommy was Cindy's boyfriend until Sarah used him to become the newest in a line of Shadyside serial killers.
Cindy (Emily Rudd)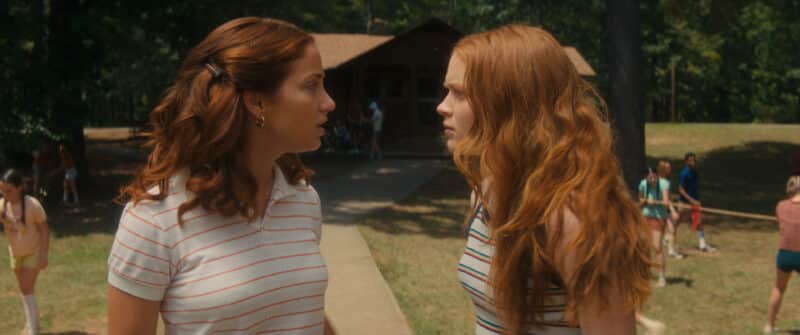 C. Berman's older sister who was a camp counselor at Camp Nightwing.
Additional Information
Fear Street 1978: The reason Cindy made the drastic change from Shadyside norm to Sunnyvale prep was due to her and Ziggy's dad leaving, combined with their mom developing a drinking problem, and fears they were about to lose the house. She didn't want that instability and issues to become her life.
Fear Street 1994 Ending (Spoilers)
Despite attempts to keep everyone alive while the killer from Camp Nightwing, Ruby Lane, and Ryan hunt Sam, unfortunately, Josh and Deena are unable to save Kate and Simon. However, after drowning her, Deena brings Sam back to life, and there is the assumption it is over, and while traumatized, she and Josh can live to tell this tale.
Sadly, while Josh is sure as hell spreading that Sarah's curse is real, Deena learns while they may have stopped the killers from hunting Sam, they didn't stop the witch. So, Sam ends up like the killers who hunted her, and she starts to attack Deena. Luckily, Deena gets the best of her and subdues her, but now Deena relies on C. Berman, the sole survivor of the Camp Nightwing massacre, to figure a way to break the curse.
Fear Street 1978 Ending (Spoilers)
Thanks to Ruby Lane's mother, Mary Lane, trying to kill Tommy and failing, it seems like Sam ended up marked in Fear Street: Part 1 – 1994, and becoming one of Sarah's minions, Tommy ended up becoming the killer with the burlap sack over his head. Now, how did he get that? Well, after Tommy foiled Mary Lane, it seemed Sarah had him mark Cindy, his girlfriend before becoming a serial killer. But, with blood being of the utmost importance when it comes to who is the target, Cindy's little sister, Ziggy aka Christine, or C. Berman, as she is introduced in Fear Street: Part 1 – 1994, also deals with Tommy chasing her.
But, unlike Fear Street: Part 1 – 1994, Tommy doesn't work in a group until the end and his killing isn't hyperfocused on just Cindy and Ziggy. He kills at least 12 campers or counselors, and it isn't until Cindy's former best friend Alice finds Sarah Fier's hand, and the possibility of ending the curse becomes a possibility does this demonic-looking heart revive all those marked by Sarah. Thus leading to Ruby coming to life, the kid who bashed his parents' heads in, and the Milkman. Which Cindy and Ziggy, after Alice dies, think they'll defeat by reuniting Sarah with her hand but, someone moved Sarah's body from the place she was hanged. Thus, Cindy is killed by Tommy, with multiple axe chops to the chest, and Ziggy somehow survives despite multiple stabs to her side, and Nick doing CPR which you'd think would make things worse, not better.
However, with finding Sarah's body, and now knowing where her hand is buried, Deena and Josh task themselves with ending this once and for all. Though with Deena getting blood on Sarah's hand, so comes the visions of how Sarah died, thus setting up Fear Street: Part 3 – 1666.
---
Follow, Like, and Subscribe
Community Rating: 0.00% (0) - No Community Ratings Submitted (Add Yours Below)