How I Met Your Father: Season 1/ Episode 1 "Pilot"- Recap/Review (with Spoilers)
Sophie sits down in 2050 to tell her son the story of how she met his father, which starts with a Tinder date in 2022.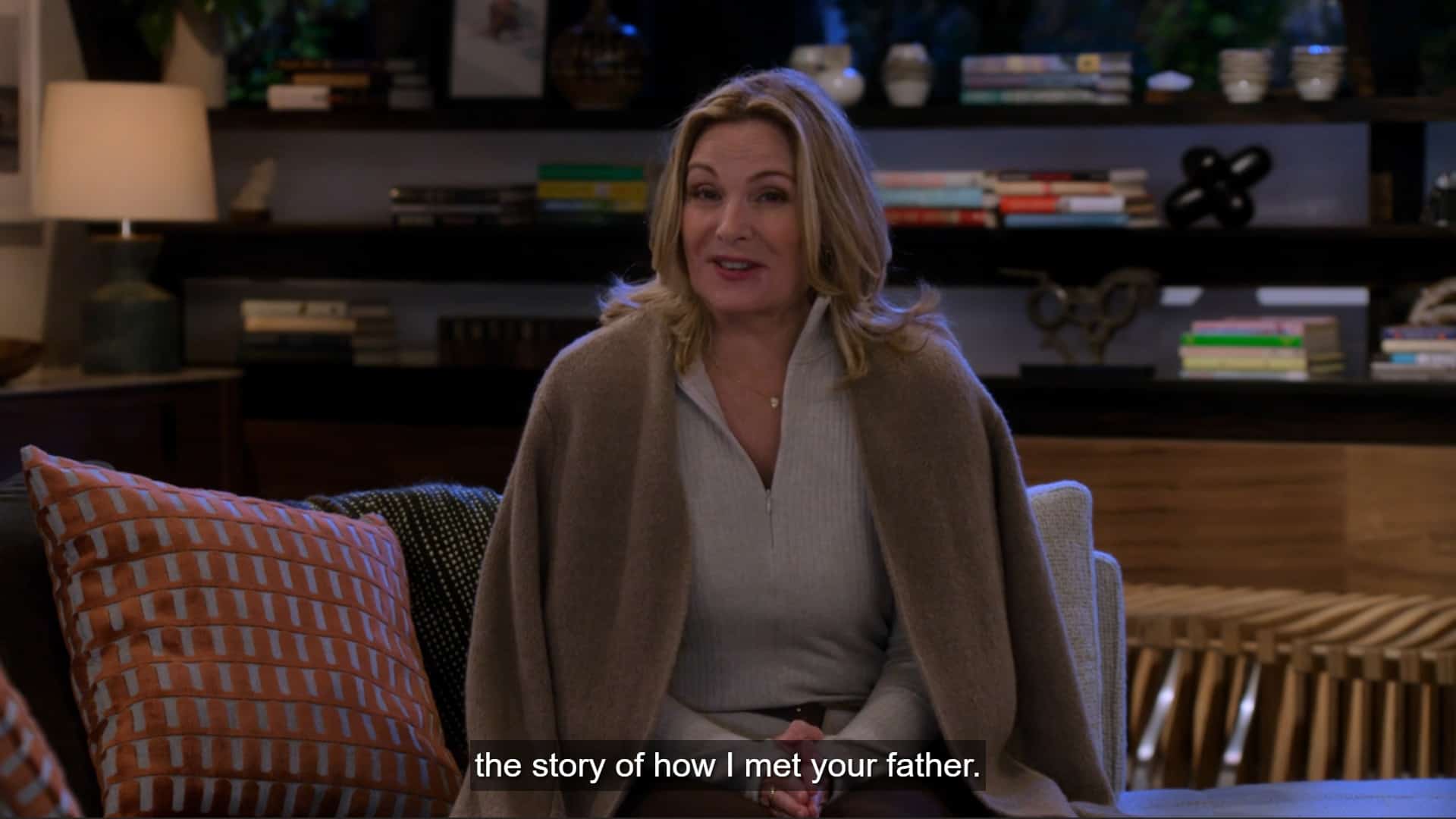 Sophie sits down in 2050 to tell her son the story of how she met his father, which starts with a Tinder date in 2022.
---
Aired
1/18/2022
Network
Hulu
Directed By
Pamela Fryman
Written By
Isaac Aptaker

Elizabeth Berger

Introduced This Episode
Sophie
Hillary Duff
Jesse
Chris Lowell
Valentina
Francia Raisa
Charlie
Tom Ainsley
Ellen
Tien Tran
Sid
Suraj Sharma
Hannah
Ashley Reyes
Ian
Daniel Augustin
Sophie (Future)
Kim Cattrall
Recap
[lwptoc]
Sophie Looks for Love on Tinder – Sophie, Jesse, Sid, Ian, Valentina, Charlie
In 2050, Sophie recaps to her son the story of how she met his father. It begins in 2022 with a Tinder match that Sophie believes might just be "The One." She spills the beans to her Uber driver Jesse and his friend Sid on how she's really hit it off online with marine biologist Ian, and despite Jesse warning her about unrealistic expectations, it turns out Sophie and Ian have just as much chemistry offline.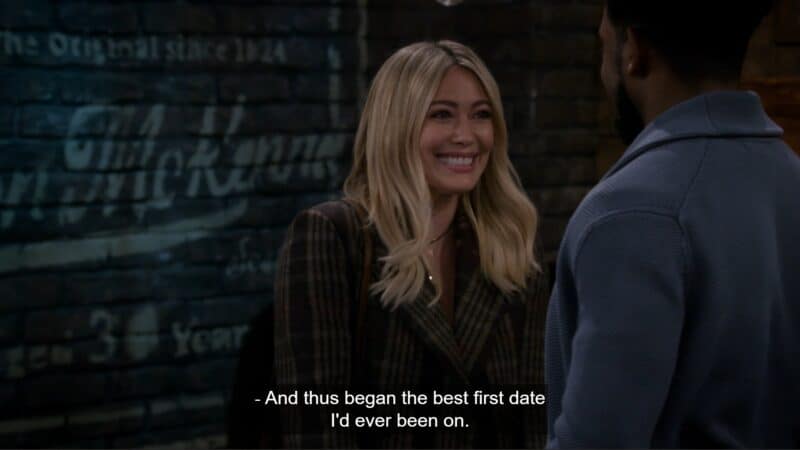 Things are looking really great for Sophie – that is until Ian tells her he's moving to Australia that same night. Sophie's ready to call it quits, but her roommate Valentina (just returned from London with posh new boyfriend Charlie) convinces her to give long-distance a chance. Sophie goes to call Ian but realizes she's swiped Sid's phone from her earlier Uber ride.
Sophie Crashes Sid's Proposal – Sophie, Jesse, Valentina, Charlie, Ellen, Sid, Hannah
Sophie tries to track down her phone at Sid's pub Pemberton's, where she knows Sid is planning to propose to his girlfriend Hannah. While waiting for them to show up, Sophie recognizes Jesse as "Mr. Proposal Fail" from a recent viral video where Jesse's girlfriend publicly rejected his marriage proposal. Meanwhile, Valentina and Charlie (who is disenchanted by the NYC experience so far) meet Ellen, Jesse's adopted sister who's just moved from rural Iowa to start over after ending it with her ex-wife.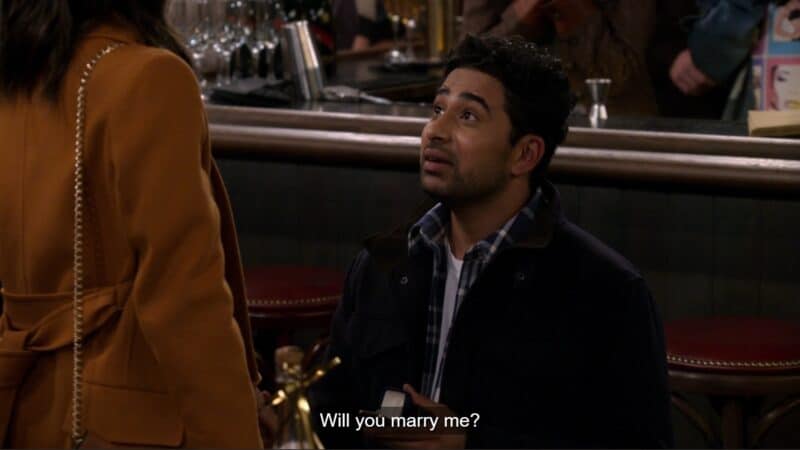 Sid and Hannah eventually arrive, the proposal goes off without a hitch, everyone celebrates, and Sophie gets her phone back. While charging her phone, Sophie tells Jesse not to give up on love, although Jesse chalks up her optimism to her parents having a happy marriage. Sophie decides to head to JFK to meet Ian before his flight, and the whole crew ends up coming along.
Sophie Shoots Her Shot – Sophie, Jesse, Valentina, Charlie, Ellen, Sid
Sophie miraculously catches Ian right as he's about to go through airport security (was this episode sponsored by TSA PreCheck?). While tripping over her words, she tells him she wants to give this relationship a shot, but Ian lets her down gently by reminding her the circumstances just aren't right (although maybe someday…).
Dejected, Sophie decides to finally walk the Brooklyn Bridge – something she'd been waiting to do with her soulmate. While the group walks with her, Valentina reveals to Jesse that the happy parental ideal he'd imagined for Sophie couldn't be further from the truth, even though Sophie remains so hopeful about love.
Charlie renews his relationship with Valentina by deciding to give NYC another shot, Ellen declares she's ready to move on from her divorce, and Sid invites them all back to his apartment for drinks. And, according to future Sophie, that's the story of how she met her son's father! But how they finally got together (and who he really is)… well, that's going to take a lot longer to explain.
Question(s) Left Unanswered
Sophie said she wanted to walk the Brooklyn Bridge with her soulmate. Will one of the people who tagged along with her turn out to be the love of her life?
Where is the father in 2050? Are he and Sophie still together in the future?
What Could Happen Next
The show seems to be setting up a love triangle between Ian and Jesse. Jesse's down-to-earth personality and perfectly tousled hair makes him seem like the anti-romantic Ted Mosby, while Ian's rejection of Sophie after a big romantic gesture mirrors Robin's rejection of Ted in How I Met Your Mother's pilot episode. With Ian temporarily out of the picture, Jesse has a clear path to soon be dating Sophie.
That being said, the episode does briefly suggest Sid or Charlie at the end as potential contenders too. Could a curveball throw Charlie or Sid (maybe some trouble with his long-distance engagement?) more into the mix?
Collected Quote(s) & .Gifs
I know this might sound crazy, but I think I've found the man that I'm gonna spend the rest of my life with. Only thing is he's from Tinder and we haven't actually met in real life yet.
— Sophie
I remember the moment I fell in love with you. It was the first year of med school, and we were dissecting dead bodies. And you leaned over, and you said to me, you said, "Hey, you know how to get to the stomach? You take the spleen-ic route."
— Sid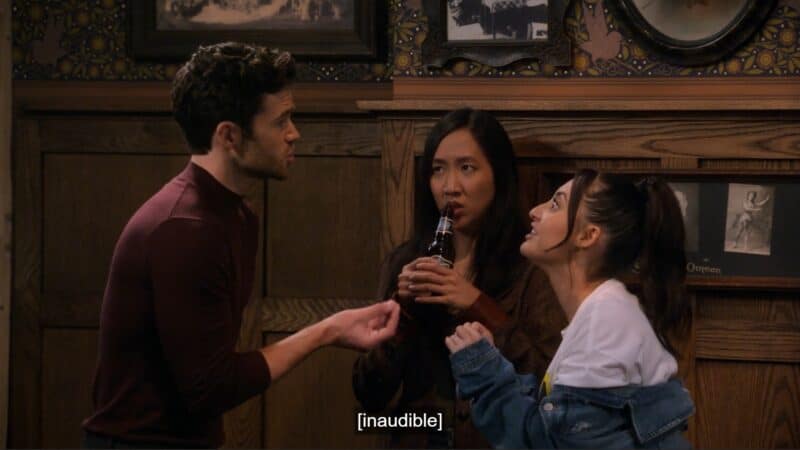 Charlie, this city is magic! And so am I. Do you want to be a part of that magic or not?
— Valentina
Review
---
Community Rating:
---
Highlights
The References to HIMYM
The episode pulls off the difficult task of including subtle enough references that reward fans of How I Met Your Mother, while still avoiding alienating newcomers. Longtime viewers will recognize the updated title sequence, a brief yet moving moment at the end referencing the original show's characters, and the plot similarities between the two pilots – a close friend's engagement, a successful date with a twist, and a romantic gesture that gets turned down. Expect more Easter eggs like these to pop up throughout the season.
The Potential Character Dynamics
How I Met Your Father differs from its predecessor in one small but important way: instead of the original main 5, it looks like we are getting a core team of 6 characters: Sophie, Valentina, Charlie, Sid, Jesse, and Ellen. This is a show that will live or die by the chemistry between its protagonists, and so far, the potential is there for How I Met Your Father to knock this one out of the park.
We have the "boy next door" Jesse, optimist Sid, romantic Sophie, impulsive Valentina, "fish out (very expensive) water" Charlie, and socially awkward Ellen. And whereas How I Met Your Mother featured all-white leads, this team is more diverse, including three main characters of color and one explicitly queer woman (so far). This is a group that really lends itself to interesting interactions and storylines, if the show is willing to dig into the characters' differences in background and personality.
The Introduction of the Father
How I Met Your Father isn't beating around the bush with its title – future Sophie tells us straight-up that this episode shows us how she met her son's father, meaning it's one of the men we've already met. This is significantly different from How I Met Your Mother, which teased every love interest of Ted's as the mother until finally revealing her identity in the final season.
Although this could lead Sophie's relationships with any other men to feel "low stakes," since we know he cannot be the father, this is a much more interesting approach for fans who want to figure out who the father is themselves. It's like we've been given the puzzle pieces without the final picture, which I anticipate will make the ultimate reveal of the father a lot more satisfying than if he were a total stranger.
Low Points
The Narration is Kind of Boring
The scenes set in 2050 with future Sophie are the episode's weakest points. While narration is a huge part of the show's premise, just like with its predecessor, something about these moments feels off unlike Bob Saget's moments in How I Met Your Mother.
Maybe it's because the camera is focused on Sophie instead of her son, or because they're talking over the 2050 equivalent of Facetime, but the humor in the 2050 scenes just falls flatter than the rest of the episode. (It doesn't help that the episode starts with an overplayed bit about voice recognition that receives canned laughs not once, but three times in the first thirty seconds.)
It Takes a While to Hit Its Stride
The weak opening set in 2050 is shortly followed by more exposition that includes another weak sequence showing Sophie and Ian flirting via text. It turns out that the two of them giggling at their phones, accompanied by voiceover small talk, for a full montage is just not particularly interesting – despite the laugh track best efforts to convince viewers otherwise. Although the episode starts to pick up right around Sid's proposal, it's definitely not the best first impression.
[ninja_tables id="62900″]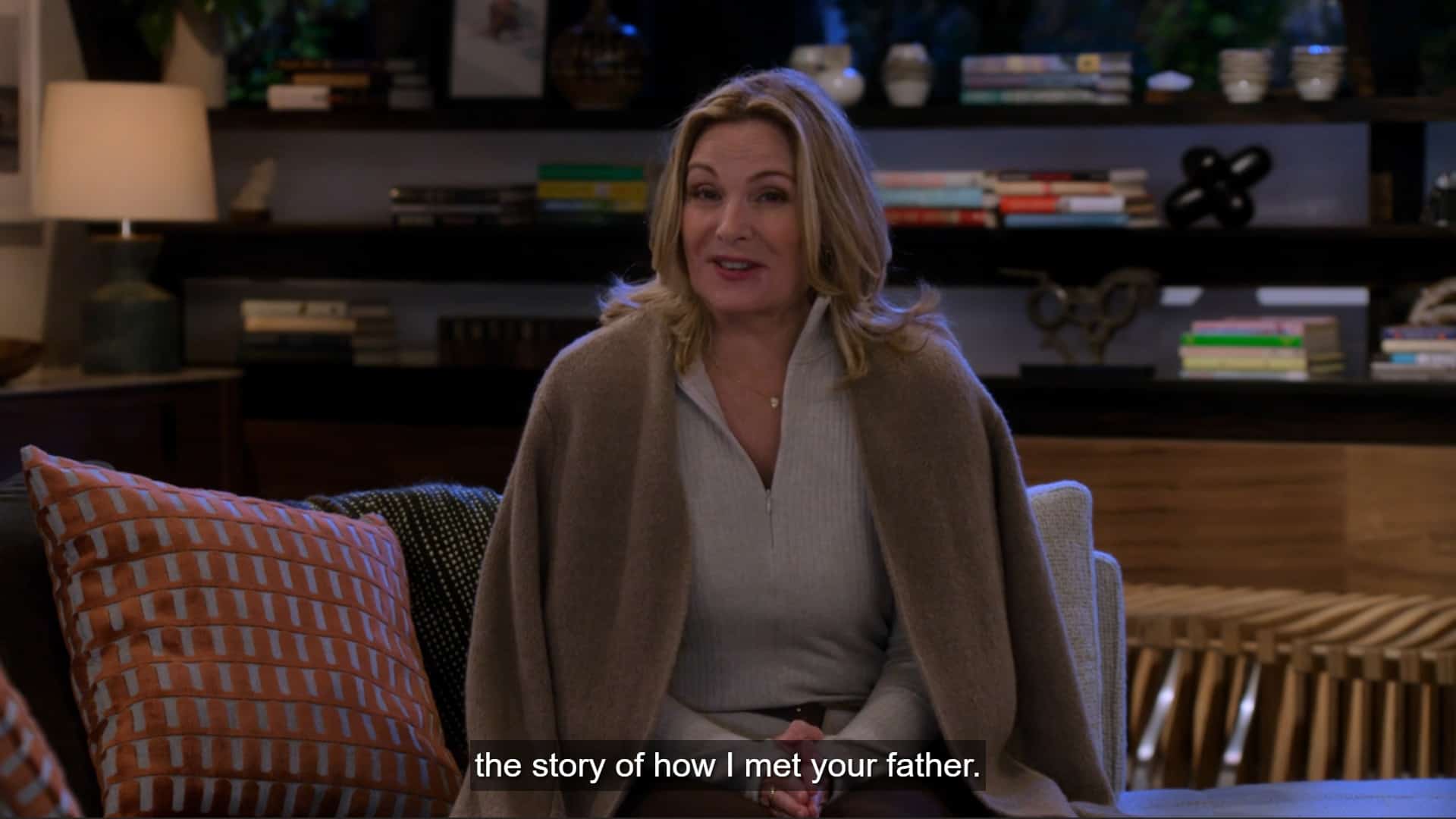 How I Met Your Father: Season 1/ Episode 1 "Pilot"- Recap/Review (with Spoilers)
Overall
A decent first outing by a show that has such large shoes to fill. Although the episode gets off to a rocky start, it finds its groove halfway through and sets up the potential for a strong season.
Highlights
The References to HIMYM
The Potential Character Dynamics
The Introduction of the Father
Disputable
The Narration is Kind of Boring
It Takes a While to Hit Its Stride
---
Follow, Like, and Subscribe
Community Rating: 0.00% (0) - No Community Ratings Submitted (Add Yours Below)