Home
Tags
Insecure: Season 2
Insecure: Season 2 for some characters was a stepforward. One in which you could see maturity and growth. However, sometimes becoming a better person is just uncomfortable so some end up regressing. More on...
Up to a certain point, you may think that everyone maybe getting their situations together. But, in the long run, happy and functioning people don't keep shows running. Molly Molly is back in therapy and part...
All the signs are there that people need to move on but, unfortunately, until the point is smeared into people's faces on Insecure, the point doesn't come across. The Beginning of Something New?: Lawrence, Aparna From...
Best Of Forgiveness is a conversation, not a decision. — "This morning's therapy session was about Forgiveness" when you find something good in this world, you'd best hold on. With love, not desperation. — Queen Sugar:...
"Sometimes saying goodbye means you're making room for something better." This quote is a lesson damn near every last character needs to learn. As for why, look below. The Death of Woot Woot: Lawrence Lawrence pitches...
Things are starting to get a little rocky in Issa's work life but are holding steady for her ho phase. Meanwhile, Molly learns her role model parents aren't as perfect as she thought they...
Daniel returns to Insecure and while things are awkward between the two, Kelli helps push them together. Meanwhile, Molly is propositioned and Lawrence has a threesome. Grocery Store Pickup: Lawrence After getting pulled over and forgetting...
As Issa begins to enter her ho phase, Lawrence comes to realize that maybe he isn't as much of a good guy as he thinks he is. Some People Ruin Everything: Issa Issa Issa's numbers are looking...
My name is Amari and I'd like to hand in my #TeamLawrence card due to him being an F*** boy. Who do I need to talk to? No, I don't wish to subscribe...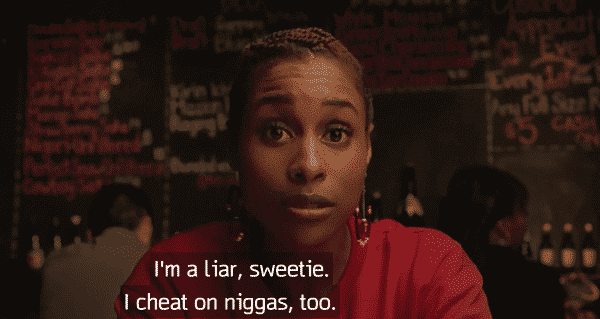 Insecure returns and Issa is still recovering from Lawrence walking out on her cheating behind. But she is "Hella Great" otherwise. Work Is Hella Great: Molly, Issa Actually, that is a lie. Molly finds out she...