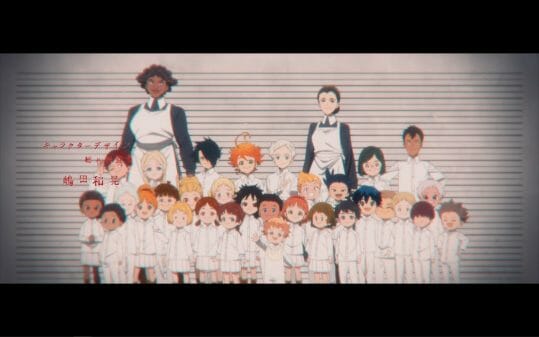 The Following is a list of cast and characters from the Crunchyroll program The Promised Neverland and their status at the end of the season(s).
---
Images and text in this post may contain affiliate links which, If you make a purchase, I may earn money or products from the company. Most affiliate links contain an upward facing, superscript, arrow.
Characters description and pictures used are changed as notable information is presented and better screenshots are taken. Please note: This is not an exhaustive list of every cast member. Only those who have presented themselves as an important part of the show are noted.
---
Ise Mariya Plays Ray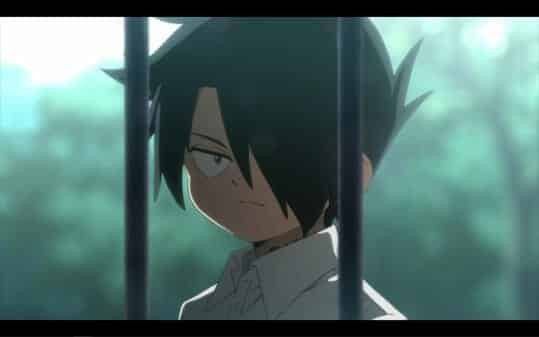 Ray is one of the three oldest kids, all 11, who also is one of the smartest. His gift is mostly in thinking logically, and this leads him to not be as active or social as Emma and Norman. However, when it comes to escaping the farm, it is realized he is a necessary member to get it done.
Who Is Ray At The End of Season 1
Noteworthy Facts & Moments In The Series
Ray has an issue of being quick to make decisions, but just as quickly abandoning them.
Ray is revealed to have been working with Isabella for 6 years, and that is how long he has known the truth and prepared to escape. Also, he setup Emma and Norman to learn the truth.
---
Morohoshi Sumire Plays Emma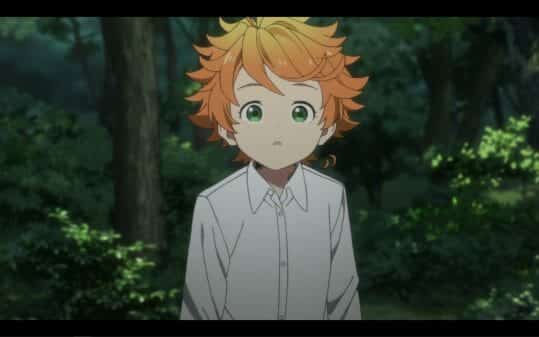 The sunny persona that is Emma is the oldest girl at the farm and probably the most loving person amongst all the kids. She is also the most significant complication when it comes to escaping for she wants all 38 kids, including herself, Ray, and Norman to escape.
Who Is Emma At The End of Season 1
Noteworthy Facts & Moments In The Series
Emma's weakness is that she is naive
---
Uchida Maaya Plays Norman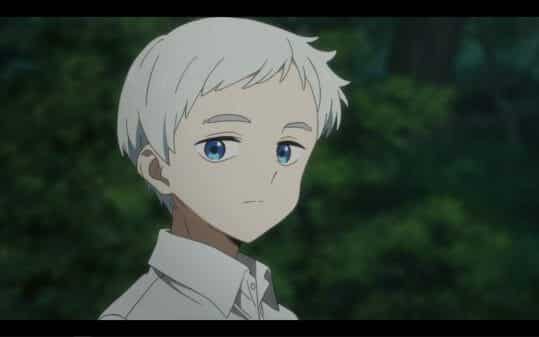 Norman is a mix of the fun-loving persona Emma has with the intelligence that Ray exudes. Making him the balancer of the two and often the mediator. He is also, due to a crush on Emma, the sole thing holding Emma's plans together and coercing Ray to play ball with what Emma wants.
Who Is Norman At The End of Season 1
Noteworthy Facts & Moments In The Series
As a child, Norman was a bit physically feeble so he isn't the strongest of the older kids.
---
Ari Ozawa Plays Conny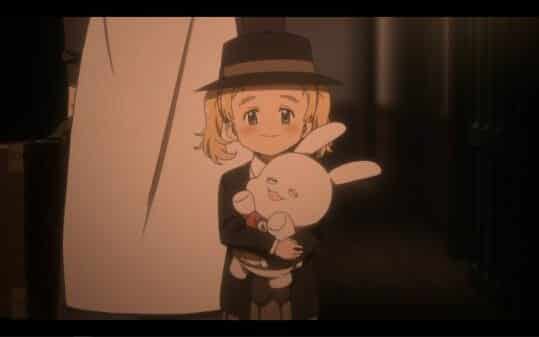 Conny was one of the younger members of the farm, and also of average intelligence. Ultimately, she is the reason everyone discovers the truth about what the farm is after Emma and Norman discover the truth.
Who Is Conny At The End of Season 1
Conny is dead.
Noteworthy Facts & Moments In The Series
---
Kaida Yuuko Plays Isabella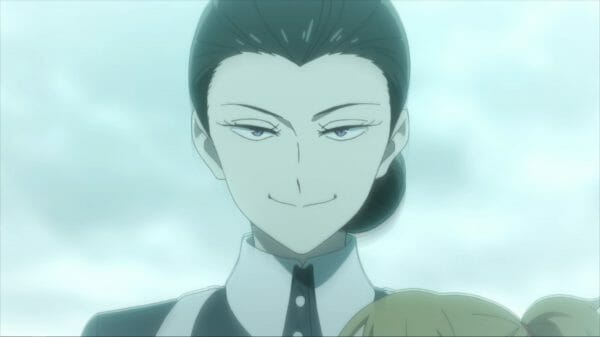 Isabella is known to the kids as their mom, caretaker, and later part of the process of them being harvested. It isn't clear whether she is human or some of the kids' biological mother, but it is clear she is working for what appear to be demons.
Who Is Isabella At The End of Season 1
Noteworthy Facts & Moments In The Series
Isabella can track the kids using what appears to be a pocket watch.
She is the youngest, and most successful mom and caretaker of all the farms. Her method to her success is more so focusing on making profit than following rules.
Once daily, around 8PM, she checks in with HQ about the progress of the children.
---
Fujita Nao Plays Sister Krone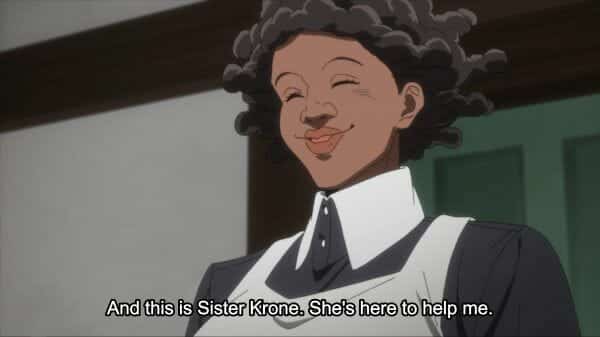 Sister Krone is brought on board after Isabella discovers some of the kids, she isn't sure who just yet, have learned the truth. So, to keep them from escaping, she has a second person to keep an eye on them.
Noteworthy Facts & Moments In The Series
Sister Krone is jealous of Isabella and wishes to replace her as mom and tries to use the kids to give her leverage, Gilda being one of them, but that fails.
---
Lynn Plays Gilda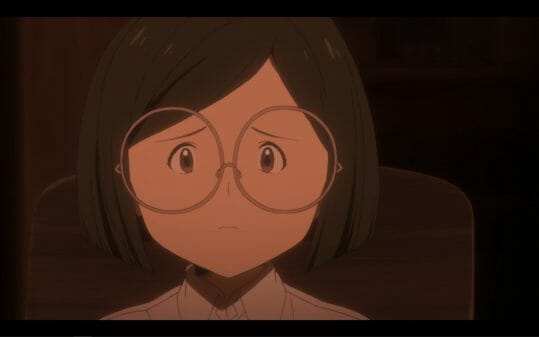 Gilda is one of Emma's friends, outside of Ray and Norman, and was very suspicious about what was going on before she knew the truth. But, now with her being included, things are better between them.
Noteworthy Facts & Moments In The Series
---
Ueki Shin`ei Plays Don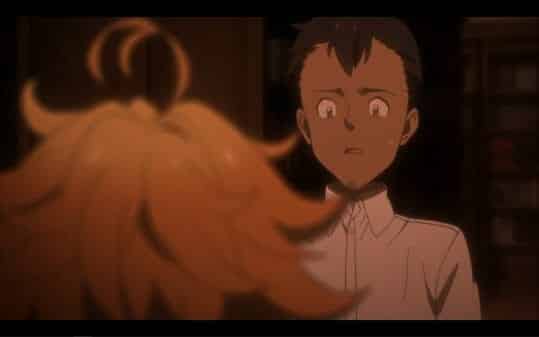 Don had a really hard time accepting Isabella, momma, was a bad person. However, mentions of Conny have been a driving force behind him working with Ray, Norman, and Emma. But, with them not taking Conny's rescue seriously, since he is led to believe she might be alive, he acts reckless.
Noteworthy Facts & Moments In The Series
---
Season/ Episode
Synopsis
Director, Writer, and Introduced Actors
Topics & Focused Characters
Season 1, Episode 5 "301045"

The traitor revealed in the last episode explains their relationship with Isabella and complicates things for Norman.

| | |
| --- | --- |
| Director(s) | Mamoru Kanbe |
| Writer(s) | Toshiya Ono |
| Air Date | 2/7/2019 |

Let's Make A Deal:

 

Ray, Norman

Secrets Between Friends:

 

Ray, Norman, Emma

Will You Be A Liability Or An Asset?:

 

Ray, Norman, Emma, Gilda, Don


Season 1/ Episode 4 "291045"

Norman sets when everyone is going to leave, and that causes them to scramble over who might be the traitor and why.

Director(s)
Mamoru Kanbe
Writer(s)
Toshiya Ono
Air Date
1/31/2019
Introduced This Episode
Gilda
Lynn
Don
Ueki Shin`ei

11/8:

 

Norman, Ray, Emma

Expanding Those In The Know:

 

Norman, Ray, Emma, Gilda, Don

A Traitor In Our Midst:

 

Norman, Ray, Emma, Gilda, Don, Isabella, Krone


Season 1/ Episode 3 "181045"

As Sister Krone reveals her intentions at the farm, it becomes clear that Emma, Ray, and Norman may not all get what they want if they plan to escape.

| | |
| --- | --- |
| Director(s) | Mamoru Kanbe |
| Writer(s) | Toshiya Ono |
| Air Date | 1/24/2019 |

The Return of Sister Krone, And Her Plans For The Future:

 

Krone, Isabella

The Return of Sister Krone, And Her Plans For The Future:

 

Krone, Isabella

Putting Plans Into Action:

 

Ray, Norman, Emma, Krone

Season 1/ Episode 2 "131045"

With the truth discovered, Emma and Norman scramble to figure a way for not only them to escape, but the 35 others.

Director(s)
Mamoru Kanbe
Writer(s)
Toshiya Ono
Air Date
1/17/2019
Introduced This Episode
Sister Krone
Fujita Nao

Stay Cool, Let's Talk About This:

 

Emma, Norman

Does She Know?:

 

Momma, Sister Krone, Norman, Emma

The Mud Boat:

 

Ray, Norman, Emma

The Promised Neverland balances out childhood innocence with the type of creepiness which puts you a tad on edge.

Creator
Kaiu Shirai
Director(s)
Mamoru Kanbe
Writer(s)
Toshiya Ono
Air Date
1/9/2018
Genre(s)
Fantasy
Good If You Like
Children As Leads In Dark Productions
Isn't For You If You
Like Shows To Be Slower And Build Up To The Shocking Moment Longer
Introduced This Episode
Ray
Ise Mariya
Emma
Morohoshi Sumire
Norman
Uchida Maaya
Conny
Ari Ozawa
Isabella
Kaida Yuuko